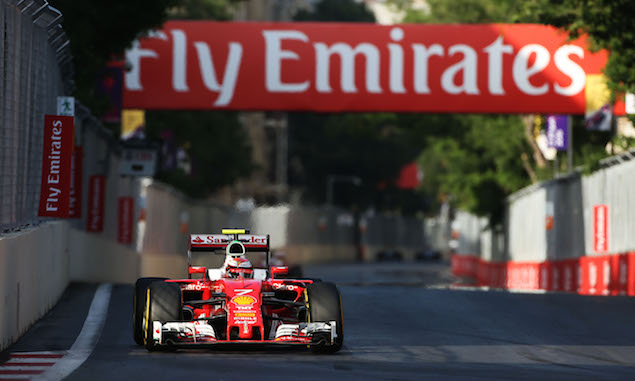 Kimi Raikkonen believes Ferrari could have handled the way it switched its two cars better after yielding to Sebastian Vettel during the Grand Prix of Europe.
The Finn had received a five-second time penalty as a result of crossing the pit entry line when not pitting, leaving him needing to maintain a gap over Sergio Perez. With Vettel third on the road and closing slightly on newer tyres, Raikkonen moved over between turns 3 and 4 to allow his team-mate to secure second place.
Raikkonen was unable to hold off Perez and eventually was overtaken at the start of the final lap, but he feels he lost too much time when slowing for Vettel.
"I don't disagree with the team's decision, because I had the penalty, so that story would have been the same anyhow," Raikkonen said. "But I think we could have done in a slightly better way – I don't know how, right now, but I just felt I lost a bit too much.
"I lost 2.5s in that lap and my fight was against Force India, trying to keep them five seconds away. I think, in the end, it didn't make an awful lot of difference. There was nothing wrong with the decision itself, it's just that we could have managed to do it with losing less from my side, but that's part of racing."
And Raikkonen says the time penalty had a big influence on the final result despite being passed by Perez on track.
"If we look exclusively to where we finished it's disappointing. Obviously I ran over the pit entry line and got penalised for that. The rule is the rule but I gained zero from it. I just missed the line and that was it.
"Obviously after that I was trying to build a gap, I was able to do it but then there was some traffic and the end result is not great. It's far from a disaster but it doesn't bring anything to me, personally. But, you know, I think we had good speed but the penalty changed the end result an awful lot."
RACE REPORT: Rosberg cruises to victory in inaugural Baku race
Silbermann says ... Ballrooms and having a ball in Baku
Keep up to date with all the F1 news via Facebook and Twitter