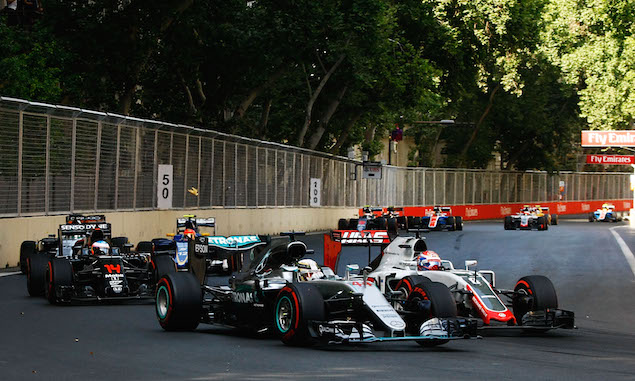 Toto Wolff has revealed both Mercedes drivers had engine settings problems during the Grand Prix of Europe but Lewis Hamilton was unable to work out how to rectify his.
Hamilton was complaining over team radio that his engine was "de-rating everywhere", slowing his pace as he tried to fight through the field from fifth position. Mercedes could see the reason for Hamilton's lack of pace but was not allowed to tell him due to radio restrictions.
Wolff explained both cars had trouble, but team-mate Nico Rosberg was able to retrace his steps immediately whereas Hamilton did not have the same luxury.
"We had a configuration setting problem, electronical setting problem but with engine modes, which cured on both cars," Wolff said. "Because by regulations we're not allowed to tell the driver, they needed to figure it out themselves.
"Nico was in the more fortunate situation that he did a switch change just before which kind of led him on the right path. So within half a lap he went back into the right mode. Lewis because he didn't have that right path, it took him a while to figure it out, 12 laps. And this is what for sure affected his race.
"We don't know how much it is, we need to analyse how much it is. As per the data it is 0.2 seconds per lap but it must affect much more because the engine was de-rating between Turn 2 and 3 where you expect the biggest boost, and that probably subconsciously affects him."
And Wolff says the problem arose from some errors on Friday while the team was getting to grips with a new circuit.
"The settings were wrong because we had a messy Friday where we couldn't configure it in the way we should have done. So it was preset in the wrong way. And it happened a little bit earlier on Lewis' car than on Nico's car, I think it was three laps earlier.
"You're permanently trying to optimise the modes and this was an optimisation which we felt we needed to have on the car and which needed the right calibration."
RACE REPORT: Rosberg cruises to victory in inaugural Baku race
Silbermann says ... Ballrooms and having a ball in Baku
Keep up to date with all the F1 news via Facebook and Twitter