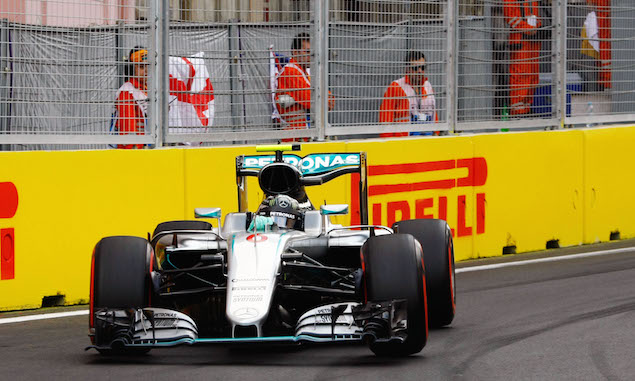 Nico Rosberg cruised to victory in the Grand Prix of Europe, extending his championship lead over team-mate Lewis Hamilton.
Starting from pole position, Rosberg led off the line and was never troubled in a remarkably calm race in Baku which didn't feature a single safety car period. With Daniel Ricciardo holding off Sebastian Vettel in the opening laps, Rosberg built up a comfortable advantage and then measured his pace at the front of the field.
Vettel passed Ricciardo on lap six but was already 8.5s adrift by that time, with Rosberg's advantage going on to peak at 20s as the leading pair both ran long on the supersoft tyres to ensure a two-stop strategy would work. Red Bull was unable to look after its tyres as well, with both Ricciardo and Max Verstappen fading on two stop strategies.
Ricciardo's first pit stop saw Kimi Raikkonen following closely as the Red Bull took to the pit lane, leading Raikkonen - in the slipstream - to cross the pit lane entry line with all four wheels. The resulting five second time penalty cost Raikkonen a podium chance, with Sergio Perez shadowing the Ferrari late on before taking third place at Turn 1 at the start of the final lap.
It was an impressive drive from Perez who climbed from seventh on the grid, running fifth early on and then benefitting from Red Bull's tyre problems to move ahead of Ricciardo. Perez closed in on Raikkonen in the closing laps and the Finn offered little defence once it was clear he would not have an advantage over five seconds.
Hamilton was following Perez for the first half of the race, unable to pass the Force India but climbing up to fifth. However, a problem with a setting saw the defending champion down on power and complaining to his team over team radio, with his race engineer not allowed to tell Hamilton what needed changing or how.
At one stage Hamilton - who complained of the power unit "de-rating everywhere" - told the team he may not finish the race as he was going to try and change as many settings as possible, to which his engineer replied: "We don't advise that Lewis."
Hamilton set the fastest lap with nine laps to go, suggesting he had fixed the problem, but then proceeded to slow again and finished 4.5s clear of Valtteri Bottas at the chequered flag.
Daniel Ricciardo, Max Verstappen, Nico Hulkenberg and Felipe Massa rounded out the top ten, with both Red Bulls passing Hulkenberg in the closing stages as Hulkenberg's supersoft tyres went off. Ricciardo and Verstappen both struggled on the soft tyre and switched to mediums for the second half of the race, dropping them out of podium contention.
While the support races had been full of incident and safety cars, the grand prix itself saw little in the way of drama or off track excursions. Jolyon Palmer took to the run-off area at Turn 1 on two occasions, while the four retirements all caused little trouble. Daniil Kvyat and Fernando Alonso both returned to the pits with problems, while a suspension issue for Carlos Sainz and fading brakes for Pascal Wehrlein saw the Toro Rosso and Manor park up behind the barrier at Turn 1.
Rosberg's victory extends his championship lead over Hamilton to 24 points, while Vettel closes the gap to second place to 21 points. Raikkonen is 15 points further back in fourth, moving ahead of Ricciardo by three points.
AS IT HAPPENED: Grand Prix of Europe
Silbermann says ... Ballrooms and having a ball in Baku
Keep up to date with all the F1 news via Facebook and Twitter
| Pos | Driver | Team | Gap | Stop |
| --- | --- | --- | --- | --- |
| 01 | Nico Rosberg | Mercedes | 51 laps - 1h32m52.366s | 1 |
| 02 | Sebastian Vettel | Ferrari | +16.696 | 1 |
| 03 | Sergio Pérez | Force India | +25.241 | 1 |
| 04 | Kimi Räikkönen | Ferrari | +33.102 | 1 |
| 05 | Lewis Hamilton | Mercedes | +56.335 | 1 |
| 06 | Valtteri Bottas | Williams | +60.886 | 1 |
| 07 | Daniel Ricciardo | Red Bull | +69.229 | 2 |
| 08 | Max Verstappen | Red Bull | +70.696 | 2 |
| 09 | Nico Hülkenberg | Force India | +77.708 | 1 |
| 10 | Felipe Massa | Williams | +85.375 | 2 |
| 11 | Jenson Button | McLaren | +104.817 | 2 |
| 12 | Felipe Nasr | Sauber | +1 lap | 2 |
| 13 | Romain Grosjean | Haas | +1 lap | 2 |
| 14 | Kevin Magnussen | Renault | +1 lap | 1 |
| 15 | Jolyon Palmer | Renault | +1 lap | 2 |
| 16 | Esteban Gutierrez | Haas | +1 lap | 2 |
| 17 | Marcus Ericsson | Sauber | +1 lap | 2 |
| 18 | Rio Haryanto | Manor | +2 laps | 1 |
| 19 | Fernando Alonso | McLaren | DNF | 3 |
| 20 | Pascal Wehrlein | Manor | DNF | 1 |
| 21 | Carlos Sainz | Toro Rosso | DNF | 2 |
| 22 | Daniil Kvyat | Toro Rosso | DNF | 2 |