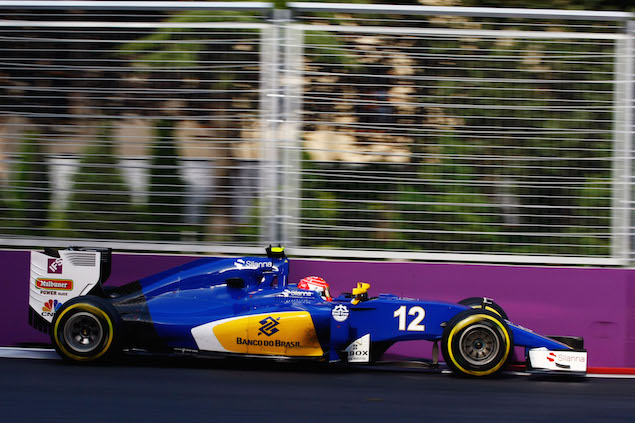 Felipe Nasr says the main weakness of his Sauber C35 lies in the car's lack of downforce, with the Swiss outfit yet to score a point this year.
After a decent 2015 campaign, Sauber's performance has plummeted, with team principal Monisha Kaltenborn readily admitting that financial difficulties were delaying upgrades. The Hinwill-based squad also saw former technical director Mark Smith leave the team on the eve of the season.
Despite being powered by the potent Ferrari engine, Nasr explains that it does not suffice to recapture his point-scoring form from last year.
"Yes, the power unit is good," the Brazilian told the official Formula 1 website. "Our main struggle comes from lacking downforce. We lack a lot of stability in the car.
"So on high-speed tracks or big braking zones we struggle. That's the missing downforce. This is the main limitation for us. More downforce would mean that you bring the car alive - bring the tyres alive.
"Last year already it was not easy - and, of course, the plan was to improve the car for 2016. But when we came to winter testing we already could see that we were going to struggle.
"Looking at the grid right now everybody has made a huge step forward and we found ourselves fighting at the back. Unfortunately that is the reality."
After a promising rookie campaign that saw him outscore the more experienced Marcus Ericsson, Nasr has been somewhat outshone by the Swede so far this year.
What's more, the Sauber pairing did themselves no favours, as they infamously clashed at the Monaco Grand Prix.
"Sometimes drivers have to go through tough learning periods - and guess I am in the middle of one," added Nasr, who secured his season-best result last weekend with 12th in Baku.
"And believe me, you learn a lot more in bad times. When the pressure comes you see the true colour of people. I had quite a lot of it so far this year given the races I have done."
Scene at the Grand Prix of Europe
Grand Prix of Europe - Driver ratings
Silbermann says ... Ballrooms and having a ball in Baku
Keep up to date with all the F1 news via Facebook and Twitter