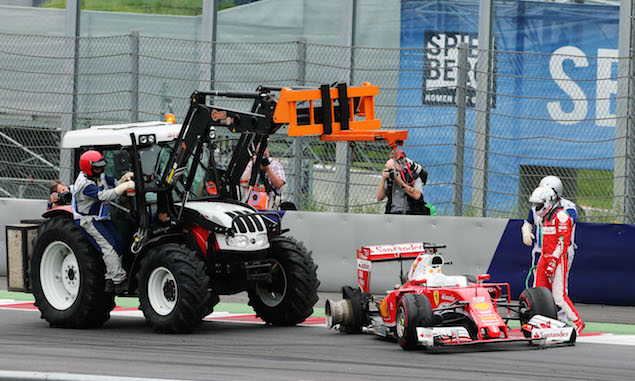 Pirelli believes Sebastian Vettel's tyre failure in the Austrian Grand Prix was due to a piece of debris rather than the tyre life.
Vettel was attempting a long stint on supersoft tyres and had just completed his 26th lap at the start of the race when his right rear tyre failed on the pit straight, pitching him into a spin and forcing him to retire. The German completed one of the longest stints on the supersoft tyre, with Romain Grosjean completing just one more lap before pitting.
Following an investigation between Pirelli and Ferrari, the tyre manufacturer has found "no signs of fatigue or structural failure", which points to a piece of debris causing the spectacular blowout.
"Analysis of the tyre issue that affected Sebastian Vettel at the recent Austrian Grand Prix has been concluded and the results shared with Ferrari," Pirelli said in a statement.
"The few remaining parts of the tyre in question, together with an in-depth comparison to other tyres used in the race, reveal no signs of fatigue or structural failure in the right-rear tyre itself.
"Consequently, the issue appears to be caused by an item of debris, which led to the breakage of the tyre."
Vettel himself said he had no warning of the failure prior to it occurring, which came with the Ferrari driver in the lead of the race but yet to make his first pit stop.
F1 technical analysis - Austria
Scene at the Austrian Grand Prix
Austrian Grand Prix - Quotes of the week
Austrian Grand Prix - F1i Driver ratings
Keep up to date with all the F1 news via Facebook and Twitter