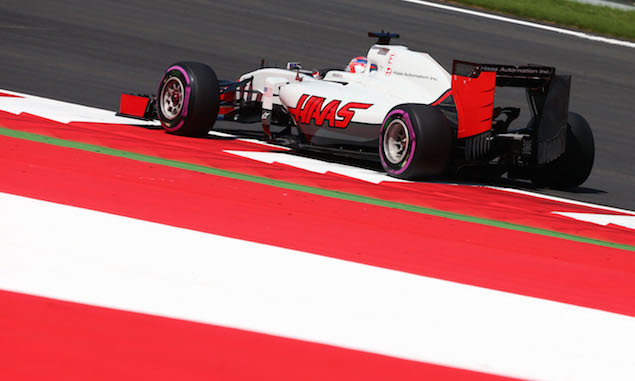 Haas will receive an upgraded Ferrari power unit at the British Grand Prix, which will be the latest specification after further developments last week.
Ferrari introduced a power unit upgrade at the Canadian Grand Prix which saw Sebastian Vettel challenge for victory in Montreal. With the Scuderia also spending an additional development token in Austria, Haas will receive the most recent specification despite it only first being used for Ferrari a week ago.
"The car will be getting an engine package upgrade, which will be a combination of being more efficient and having better performance," team principal Guenther Steiner said.
"It is quite normal that we get the upgrade a couple of races after Ferrari. We are very happy with that since we don't have to test it and they get to experience it first and make changes, if needed."
With Haas focusing on getting its tyres to work in recent races - resulting in a seventh place for Romain Grosjean in Austria - Steiner says the team has yet to analyse how much of a performance gain it is likely to get from the Ferrari power unit.
"I don't know exactly, I haven't asked them what they think it is or what there simulation says. We first need to get it and then we can speak about it.
"It cannot be worse. The car was pretty good again in Austria, so it will help us."
Sauber will also receive the updated power unit at Silverstone, which Marcus Ericsson believes is worth "at least a couple of tenths" per lap.
Scene at the Austrian Grand Prix
Austrian Grand Prix - Quotes of the week
Austrian Grand Prix - F1i Driver ratings
Breakfast with ... Alexander Rossi
Keep up to date with all the F1 news via Facebook and Twitter