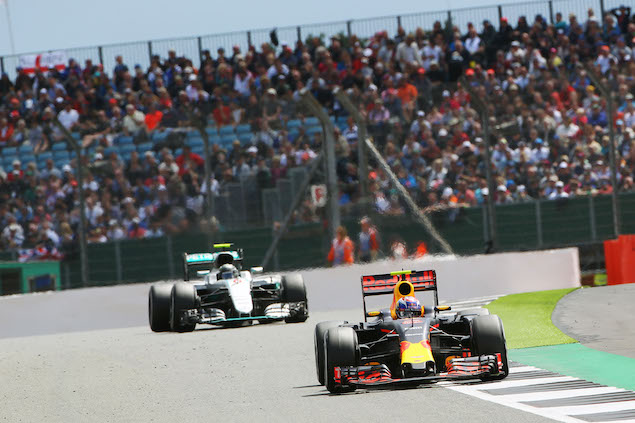 Red Bull ace Max Verstappen has won his fourth Formula One Driver of the Day Award after claiming second place at the British Grand Prix.
The Dutchman out-qualified team-mate Daniel Ricciardo for the first time since moving up from Toro Rosso and went on to deliver another great performance in wet-to-dry conditions. Verstappen's knack for overtaking was once again on display at Silverstone when he stunned Nico Rosberg out of Chapel corner.
The 18-year-old then managed to resist the faster Mercedes on slick tyres for several laps until Rosberg finally went though with a DRS-aided move. Having finished third on the road, Verstappen was promoted to second following Rosberg's demotion to third over unauthorised radio messages.
The teenager's first Driver of the Day accolade came after becoming the youngest F1 race winner ever on his Red Bull debut in Barcelona. He then scooped a second award at the Canadian Grand Prix, where he had also defended superbly from Rosberg. Verstappen picked up his third trophy for finishing P2 in Austria.
Other Driver of the Day awardees are Haas' Romain Grosjean in Australia and Bahrain, Daniil Kvyat, then racing for Red Bull, in China, Renault's Kevin Magnussen in Russia, and Force India's Sergio Perez in Monaco and Baku.
The Driver of the Day award has been introduced this season as a way to increase fan engagement.
2016 British Grand Prix - Driver ratings
RACE REPORT: Hamilton beats Rosberg and Verstappen in British GP
FEATURE: Home sweet Home - Eric Silbermann on Silverstone
Romain Grosjean on predicting race results and collisions between team mates, in his latest column for F1i
Keep up to date with all the F1 news via Facebook and Twitter