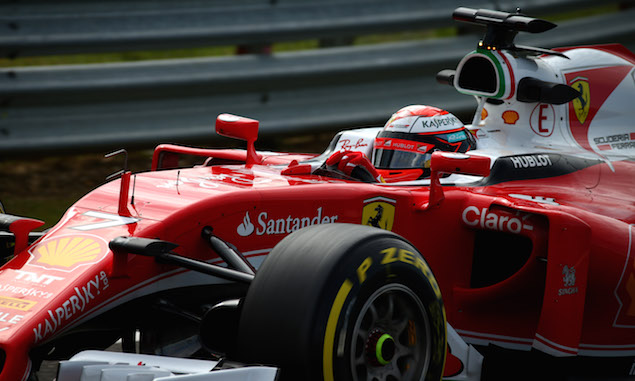 Kimi Raikkonen says Ferrari "always expect more as a team" after an underwhelming first half of the season.
Ferrari started 2016 with the target of fighting for the championship until the final round, with the team having won three races last season. However, after ten grands prix this year Mercedes has won nine - with Max Verstappen also taking victory in Barcelona for Red Bull - and Raikkonen says Ferrari is naturally not satisfied.
"We always expect more as a team, we want to win, and until we win all the time it's not ideal," Raikkonen said. "As Ferrari we expect to win, but this is what we have got, so we'll keep working and improving."
And Raikkonen reiterated his belief Ferrari remains in the title fight despite a growing gap in the standings, insisting the team doesn't need Mercedes retirements in order to win.
"We will keep working and improving, and not give up until it's not possible any more. We know where Mercedes is, ahead of everybody right now, but it doesn't mean we should give up or we're not working on things, and try to catch them up.
"We will see what will happen in the second part of the year, and yes we believe we can still win. It doesn't matter if every car is there or not.
"Who knows what will happen in the races? But we know we've work to be done, so for sure there will be circuits where it will be better."
Asked how big a threat Red Bull poses to Ferrari after it closed to within six points in the constructors' championship, Raikkonen replied: "We'll see in Hungary.
"I'm zero interested in guessing what will happen at the next races, and we'll see when we are there. Our car should definitely suit that circuit better. Is it good enough to challenge for a win? We'll see."
LIVE: Silverstone in-season test - Day 2
Scene at the British Grand Prix
Silbermann says ... Radio Ga Ga
2016 British Grand Prix - Driver ratings
Keep up to date with all the F1 news via Facebook and Twitter