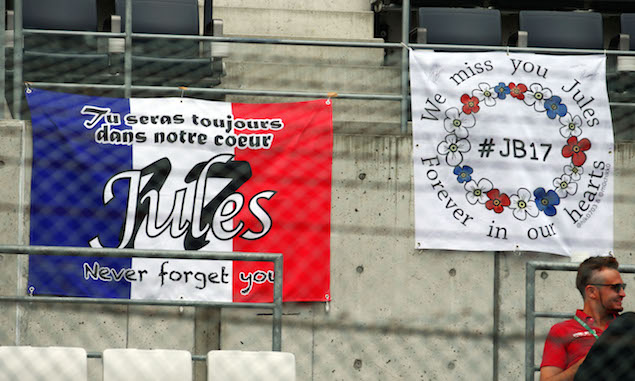 Philippe Bianchi says he has "nothing to lose" as he takes legal action against the FIA, F1 and Marussia over the death of his son Jules.
Jules Bianchi died on July 17 last year from injuries sustained in a crash during the 2014 Japanese Grand Prix. The findings of an FIA investigation claimed "Bianchi did not slow sufficiently to avoid losing control", something Philippe Bianchi refutes, saying the report left "many unanswered questions" for the family.
A statement from the firm representing the Bianchi family released a statement during the Monaco Grand Prix weekend this year said: "The letters (to the FIA, Marussia and Formula One Group) explain why the Bianchi family feel the actions of one or more of those parties, amongst others, may have contributed to Jules' fatal accident and invite them to accept that errors were made in the planning, timing, organisation and conduct of the race which took place in dangerous conditions during the typhoon season in Japan."
Now Philippe Bianchi says he the focus of the action is designed to protect his son's memory.
"I have lost the single-most important thing in my life and have nothing to lose," Philippe Bianchi told CNN of the decision to take legal action. "I want the memory of Jules to be right. It's not possible for me and his mother to see people that say it was Jules' responsibility.
"My motivation is just to make justice for Jules. I know that Jules is here and I know when he listens to some people saying it is his responsibility, it is not possible.
"Jules crash is not a Formula One crash, it is a crash that you can have on the road here, but not in a Formula One race."
And Philippe Bianchi has urged Formula One to make sure future changes to the sport ensure safety continues to improve.
"Formula One has to be more spectacular, sure. But more dangerous? It's stupid. You have to change and have more security, because my son is dead now."
Scene at the British Grand Prix
Silbermann says ... Radio Ga Ga
Keep up to date with all the F1 news via Facebook and Twitter