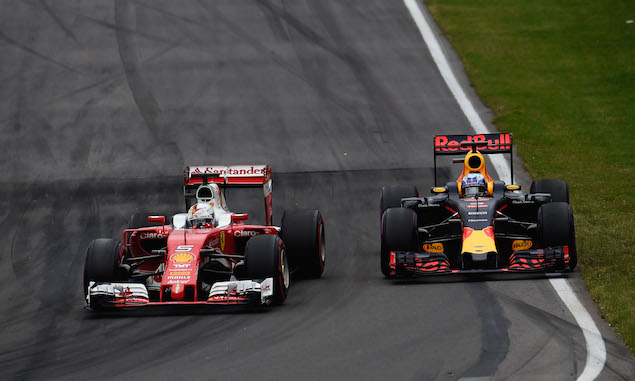 Christian Horner expects Red Bull to be locked in a title battle with Ferrari for second in the constructors' championship for the rest of the season.
Max Verstappen finished second in the British Grand Prix as a result of a post-race penalty for Nico Rosberg, with Daniel Ricciardo in fourth ensuring both Red Bulls beat the two Ferraris. The result saw Red Bull outscore Ferrari for the fourth time in the last six races and Horned believes the upcoming races should provide an opportunity to keep that form going.
"I think it has been positive for us in the Constructors' Championship," Horner said. "[During the British Grand Prix] weekend we have outscored Ferrari by 18 points and we outscored them last weekend by 13 points.
"Obviously we have got some of the more powerful circuits out of the way, like Montreal and Baku and obviously Austria, and the circuits coming up hopefully play to some of our strengths.
"So, it is going to be a tight battle with them for the rest of the year. I am sure they have got some development to come and two great drivers."
While Horner admits it is a difficult period for Red Bull as it crosses over to the 2017 car, he is confident there is enough focus to keep development going on this year's car.
"We are juggling a lot of plates. We have got the current car, we have got an interim car that we are supporting the tyre testing with and we have got next year's car. But the resources are properly allocated to each of the different challenges."
From the cockpit: Felipe Nasr on the green grass of home
Scene at the British Grand Prix
Silbermann says ... Radio Ga Ga
Keep up to date with all the F1 news via Facebook and Twitter