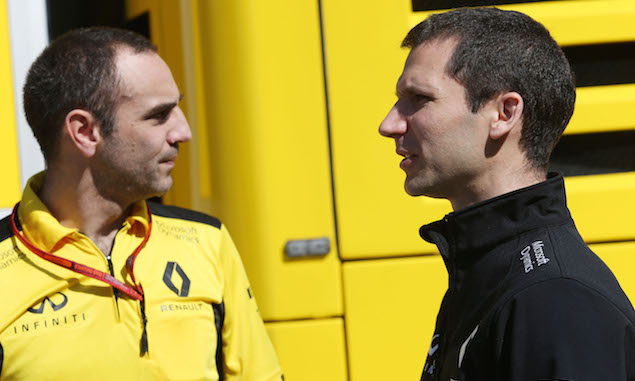 Renault still needs to increase its power output but knows how it will do so, according to engine technical director Remi Taffin.
After a disappointing 2015 season, Renault made progress with its power unit over the winter and provided a further step forward at the Monaco Grand Prix which saw Daniel Ricciardo take pole position for Red Bull. While the works team continues to struggle, Red Bull has been able to challenge Mercedes on occasion but Taffin is not yet satisfied.
"It's obviously encouraging to see that the power unit is now capable of fighting on track at the front and going for pole positions," Taffin said. "It shows the work we have done has paid off but we know we still need to increase the power output and this is where our focus lies as we know how to achieve that."
And Taffin says the current specification of power unit is yielding smaller gains at each race after Renault has worked to optimise it over the last four rounds.
"We have now got to the point where we are working on the smaller issues to improve the wider picture and give extra performance through driveability or additional power.
"Having a reliable and generally driveable PU was one of our major targets this year and now that has been achieved we can work on the bigger picture, together with Enstone. We're learning as a team all the time about operating car and every lesson learnt helps for the future."
And Taffin is unsure if the Hungaroring will suit the Renault team this weekend, even if the power unit is performing well.
"We know that slower tracks with lots of tight corners aren't where our strengths lie. In general the car didn't perform well over the kerbs and in the slower turns, but with the extensive work we achieved at Silverstone, Budapest should benefit from new parts and a better understanding of the car.
"On top of that, Budapest also has short straights between the corners so this could turn into our direction. We hence look forward to Budapest to maximise what we have got."
Closing the gap? 2016 constructors points progression
FEATURE: Red Bull Racing: Be My Guest
From the cockpit: Felipe Nasr on the green grass of home
Keep up to date with all the F1 news via Facebook and Twitter