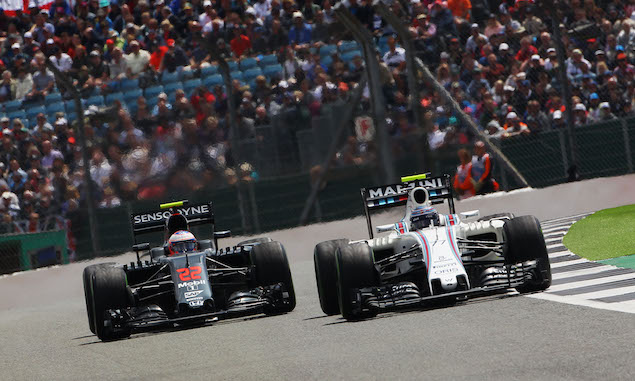 Jenson Button is hopeful McLaren will be able to move to the front of the midfield at the Hungarian Grand Prix this weekend.
McLaren failed to score at Silverstone, leaving the team with a return of just eight points since both drivers finished in the top ten in Monaco. The four races since then have included power-sensitive tracks at which McLaren has still been relatively competitive, but Hungary features a tight and twisty circuit in the form of the Hungaroring which Button believes will suit the MP4-31 more.
"This circuit is quite different from the last few we've been to, so I'm looking forward to heading back to Hungary next weekend," Button said. "It's less dependent on power, and much more dependent on traction, cornering speeds and agility, and it's a really enjoyable challenge. You get a great feeling when you hook up a good lap there.
"The focus is much more on aero, so we'll run pretty high downforce and try to make the most of our car's good traction under braking. Hopefully it'll mean we can keep up with the chasing pack and maybe even make up a bit of ground, too. Although we struggled with our pace in Silverstone, the Hungaroring is a different kettle of fish, so I'm keen to see how we perform there."
However, Button says it will be crucial for McLaren to get its set-up right on Friday to make sure it maximises its potential in Hungary.
"In the past couple of years Hungary has been fairly good to us and provided a bit of a boost before the summer break after a relentless few weeks of back-to-back racing, so I'm hoping for more of the same this time around.
"It suits our car more than some of the other circuits, but of course there are no guarantees, so we'll be putting in the hard work on Friday to make sure we have the best possible set-up for the demands of this quirky track."
Closing the gap? 2016 constructors points progression
FEATURE: Red Bull Racing: Be My Guest
From the cockpit: Felipe Nasr on the green grass of home
Keep up to date with all the F1 news via Facebook and Twitter