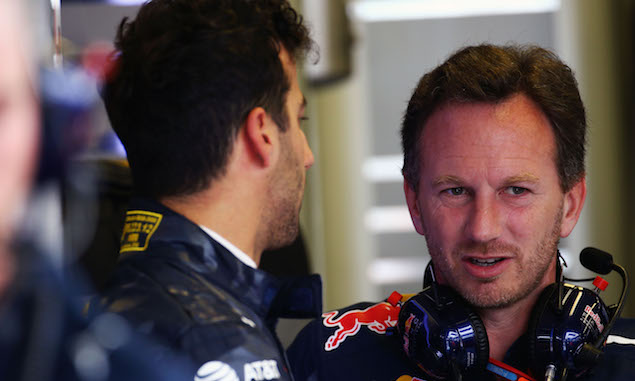 Red Bull team principal Christian Horner says F1 teams "are all talking in code anyway" to bypass the team to driver message restrictions.
The FIA clarified the restrictions regarding what a team can and can't tell a driver on track ahead of the Hungarian Grand Prix, with all messages now permitted when the car is in the pit lane. Horner is unhappy with the regulations and told Sky Sports teams have been using codes to send messages.
When it was put to him by Martin Brundle that the rules are "utter nonsense", Horner replied: "Totally, I thought cricket was confusing but this is a whole new level.
"I think if we have to consult the rulebook before we can talk to the driver … and forget all that, they're all talking in code anyway. So it's far better you guys know what's going on, far better we know what's going on and it's transparent for everyone rather than ending up with the charade that we have.
"Of course they are [talking in code]. When you put a silly rule in like this, that's what you get."
And Horner says what confuses him is what the FIA is hoping to achieve by banning so many radio messages, aside from preventing driver coaching.
"Personally I don't like it because I don't actually know - and nobody has actually explained to us - what are they trying to achieve by this? It seems to be getting a bit murky. We can't tell a driver his brakes are about to fail or about a failure on circuit. I think it's going too far.
"I fully agree we shouldn't be coaching the drivers, we shouldn't be telling them how to drive the car; brake a bit later, carry a bit more speed, that kind of thing. But it's a team sport and the driver is a crucial part of the team in the car on the circuit. I think there needs to be an element of dialogue, and these cars are so technical now, it's too much for him to manage on his own."
Horner hopes there will be further discussions on the matter during a meeting of the Strategy Group, as he wants to understand the FIA's intentions.
"Well we've got a meeting next Thursday between the Strategy Group. I'm sure it will be on the agenda there and it will be very interesting to see exactly why they're going this route with this regulation."
REPORT: Mercedes dominates FP1 in Hungary
Romain Grosjean column: Safety car starts and summer breaks
Chris Medland's 2016 Hungarian Grand Prix preview
TECHNICAL: Under the skin of the Mercedes W07
Keep up to date with all the F1 news via Facebook and Twitter