What time does the Hungarian Grand Prix start? What channel is the Hungarian Grand Prix on? The answers to all of that and more in F1i's race preview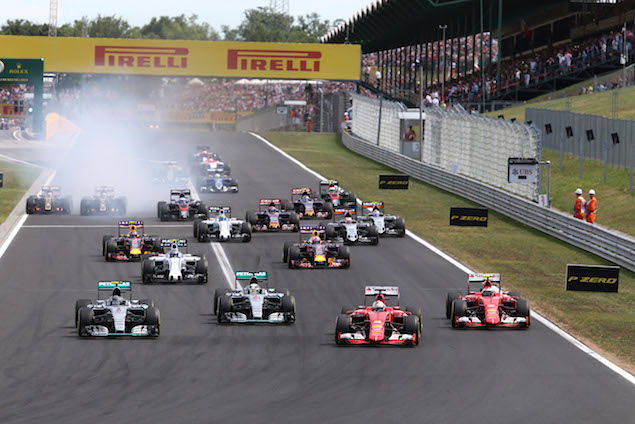 Remember Monaco? Then you should be looking forward to the Hungarian Grand Prix with great excitement this weekend, even if you're a Mercedes fan. Daniel Ricciardo took pole position in Monaco and the Hungaroring is the closest circuit F1 has visited in terms of track characteristics since. Fortunately for Red Bull, the weather at Silverstone and feuding team-mates in Austria kept Max Verstappen close to Mercedes, but this weekend could see the championship leaders really tested on outright pace. As if that prospect wasn't good enough in isolation, remember Ferrari won in Hungary last year courtesy of Sebastian Vettel, and there's just one point between Nico Rosberg and Lewis Hamilton at this stage, with Hamilton yet to lead the standings this year. Oh, and it might rain. Again.
FORM GUIDE
Hamilton was in superb form in his home race, but Rosberg looked set to push him hard in the closing laps before a gearbox problem stopped his charge. Radio messages regarding the problem later saw Rosberg penalised and demoted to third, to the benefit of the spectacular Max Verstappen who pulled off arguably the pass of the season around the outside of Rosberg at Becketts. Daniel Ricciardo was a distant fourth in his own race, as Ferrari and Williams both struggled relative to the front two teams. Force India has emerged as a serious threat to Williams and has yet to find a circuit it can't score heavily at, while McLaren and Toro Rosso will be hoping the tight and twisty nature of the Hungaroring negates their respective power unit deficits. It's a track where Mercedes has not won since 2013.
2015 RESULT
Pole position: Lewis Hamilton (Mercedes), 1:22.020
Top three: Sebastian Vettel (Ferrari), Daniil Kvyat (Red Bull), Daniel Ricciardo (Red Bull)
Fastest lap: Daniel Ricciardo (Red Bull), 1:24.821
SESSION TIMES (All times local)
FP1: 10:00 - 11:30
FP2: 14:00 - 15:30
FP3: 11:00 - 12:00
Qualifying: 14:00 - 15:00
Race: 1400
TYRE CHOICES
WEATHER FORECAST
What is it about this F1 season and wet weather? After a rain-hit qualifying session in Austria and a torrential downpour which required a safety car start at Silverstone, there's another threat of rain in Hungary. Friday should be dry and hot - typical Budapest conditions - before expected rain on Saturday morning could impact on FP3 and perhaps even qualifying. While it remains hot, race day is forecast to see scattered thunderstorms, and Hungary can deliver some pretty spectacular downpours…
UK TELEVISION TIMINGS (All times UK)
Sky Sports F1 - Live coverage
FP1 - 0845
FP2 - 1245
FP3 - 0945
Qualifying - 1200
Race - 1130
Channel 4 - Live coverage
FP1 - 0855
FP2 - 1255
FP3 - 0955
Qualifying - 1155
Race - 1200
PODIUM PREDICTION
1st - Max Verstappen
2nd - Lewis Hamilton
3rd - Daniel Ricciardo
2015 BEST SHOT
TECHNICAL: Under the skin of the Mercedes W07
Closing the gap? 2016 constructors points progression
FEATURE: Red Bull Racing: Be My Guest
Keep up to date with all the F1 news via Facebook and Twitter