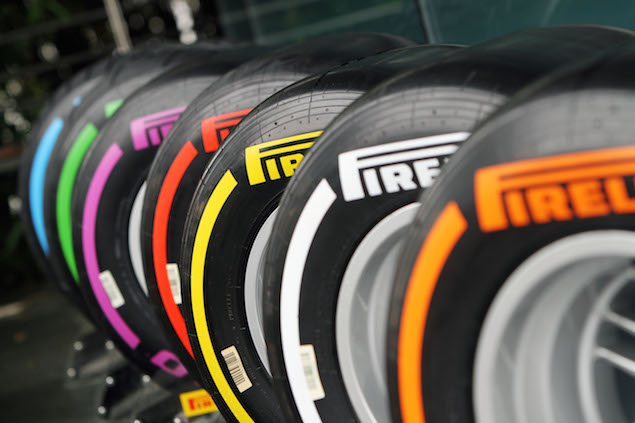 Pirelli has announced the tyre compounds it will take to the last two races of the 2016 Formula One season, the Brazilian and Abu Dhabi Grand Prix in November
With three tyre compounds available at each race this season, Pirelli has nominated the hard, medium, and soft compound for the Interlagos event, which will be the fifth race to see that selection.
For Yas Marina, the official supplier has gone for the softest allocation possible with the soft, supersoft, and ultrasoft tyre made available. This will also be the fifth time that Pirelli's newest, purple-marked compound is used on its debut season.
F1 teams have to pick their tyres 14 weeks in advance for overseas grands prix - compared to eight weeks for the European races - and are allocated three mandatory sets by Pirelli.
One set of the softest compound (softs for Brazil, ultrasofts for Abu Dhabi) must be available for use in Q3 should a team reach it.
In Sao Paulo, one set of the hards and one set of the mediums will have to be retained for the race, although only one of those two race sets has to be used. Pirelli has mandated one set of the softs and one set of the supersofts for the UAE race.
Teams are free to select the other ten sets of tyres for each driver from the three compounds available, giving them 13 sets in total.
DRIVER RATINGS: Hungarian Grand Prix
REPORT: Hamilton holds off Rosberg to take championship lead
Keep up to date with all the F1 news via Facebook and Twitter