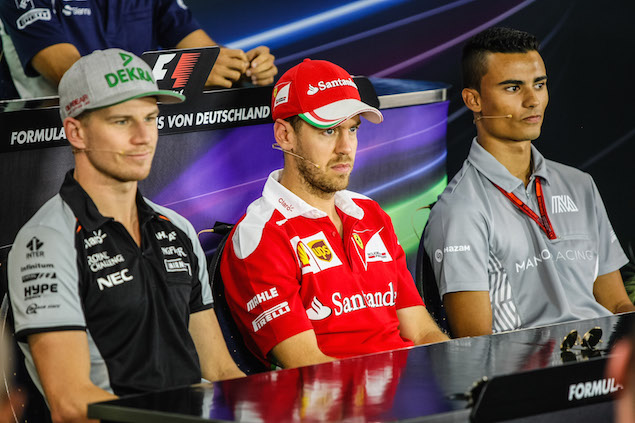 Sebastian Vettel says he is "a bit surprised" to hear dissenting voices about the Halo cockpit protection system, as the Ferrari driver argues that nothing "justifies death".
With F1's Strategy Group set to vote on the introduction of the device on Thursday, Halo has been a much discussed topic ahead of the German Grand Prix.
The FIA gave a presentation on the system last Friday in Hungary, which convinced even vocal opponents of Halo, including triple world champion Lewis Hamilton.
However, when asked about their opinions on the device at Hockenheim, several drivers said they would veto it if given the choice. Much to Vettel's chagrin.
"I am a bit surprised because it sounded as if we were clear about what we want in the future," the four-time world champion told reporters during Thursday's FIA press conference.
"We had a vote amongst the drivers and I think 90-95% voted for it so I don't know why all of a sudden it comes up the way it does.
"I think it is the wrong impression as the majority have said. We don't like the looks of it but I don't think there is anything that justifies death.
"We've always learnt from what happened, incidents on track, and tried to improve. That will be the first time in human history that we have learned the lesson but we don't change. I think it is up to us that it does happen otherwise I think we would be quite stupid."
Sitting next to Vettel in the press conference was fellow German Nico Hulkenberg. The Force India racer has been against Halo from the its very first appearance in pre-season testing and reiterated his views at Hockenheim.
"I think there are some mixed opinions amongst the drivers," Hulkenberg said. "Some favour it, some don't favour it. Obviously the aesthetics are no so good, it doesn't look very attractive.
"Yes, in some cases it would have been probably better and saved lives but as it is I think F1 is pretty safe and we also have to keep an element of danger there to keep it exciting, keep it spectacular.
"It's not in our hands what's going to happen with it. Today there is a meeting about Halo and we'll wait and hear from that."
Vettel is one of the few drivers to have sampled the Halo so far. The German has said that saying lives is more important that any concerns about the look of F1 cars, but he also recently admitted that the system had "quite an impact" on visibility.
Chris Medland's 2016 German Grand Prix preview
FEATURE: Halo: splitting opinion in F1
Scene at the 2016 Hungarian Grand Prix
Keep up to date with all the F1 news via Facebook and Twitter