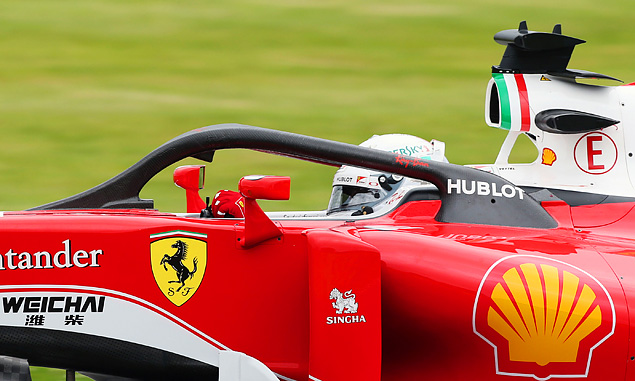 Sebastian Vettel has admitted that the latest version of Ferrari's updated and revised cockpit protection system does still limit driver visibility.
The team gave the new version of the Halo device a trial in first practice in the British Grand Prix, with Vettel admitting later that he thought it was "Not great, quite a bit of an impact in terms of visibility. But it was just a standard check."
Most drivers support the introduction of the system on safety grounds, although reigning world champion Lewis Hamilton has described it as the "worst looking mod in F1 history".
Vettel was in fourth place in both of Friday's practice sessions for the British Grand Prix, with Red Bull overtaking Ferrari in the afternoon times, but Vettel himself didn't sound too worried.
"I think it's a bit mixed this afternoon, it's quite windy. The beginning was not so good. I think the long run was OK, we need to have a look at where we are. We need to do quite a lot of work for tomorrow to improve the car, this is the baseline."
Vettel also welcomed the news that Kimi Raikkonen had been signed up for another season as his team mate.
"I think it's the right thing to do. I think we're both pushing very hard. Our primary target is to catch the leaders, in this case Mercedes, so there's plenty of work ahead of us. There's been a lot of talk now that all goes to quiet and we can focus on our work.
"I would say that probably Kimi and myself have the least ego problems in the whole paddock, which I think is good for the team – we're working in the same direction. On the track we both try to race hard, as we've shown in the past in the races where we've raced for position. I think that's normal. Outside the car I think there's no problem.
"We're both pushing hard trying to help the team as much as we can, putting our own interest aside so they don't impact on the team's effort. So I think it was the right call [to re-sign Raikkonen.]"
FP2 report: Hamilton sweeps Friday practice as Rosberg hits trouble
Chris Medland's 2016 British Grand Prix preview
Romain Grosjean on predicting race results and collisions between team mates, in his latest column for F1i
From the cockpit: Felipe Nasr on back-to-back races
Keep up to date with all the F1 news via Facebook and Twitter