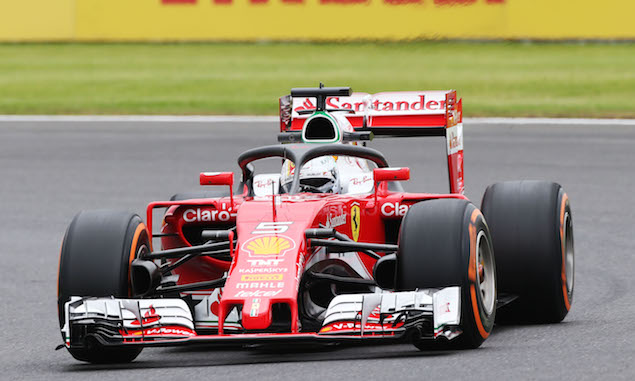 The introduction of the Halo cockpit protection device has been delayed following a meeting of the F1 Strategy Group.
The Strategy Group members - including representatives from Ferrari, Mercedes, Red Bull, McLaren, Williams and Force India as well as FIA president Jean Todt and Bernie Ecclestone - met in Geneva on Thursday to vote on the introduction of the Halo for 2017, with the FIA keen to increase cockpit protection.
While Todt was hopeful of getting the Strategy Group members to unanimously agree to introduce the Halo, which would have paved the way for approval from the F1 Commission and World Motor Sport Council, there was opposition from the teams.
Following concerns about the lack of track testing for the device - it has only completed four installation laps this year - teams said that further development is necessary to ensure the Halo is fully ready for implementation.
"The Strategy Group agreed unanimously that the 2018 season will see the introduction of frontal cockpit protection for F1 cars in order to significantly enhance the safety of drivers," an FIA statement read.
"It was decided that owing to the relatively short timeframe until the commencement of the 2017 F1 season it would be prudent to use the remainder of this year and early next year to further evaluate the full potential of all options before final confirmation.
"This will include undertaking multiple on track tests of the Halo system in practice session during the rest of the season and during the first part of the 2017 season.
"While the Halo is currently the preferred option as it provides the broadest solution to date, the consensus among the Strategy Group was that another year of development could result in an even more complete solution.
"Halo remains a strong option for introduction in 2018."
The news comes following a number of outspoken opinions from the drivers, with Sebastian Vettel unhappy at recent negative comments, saying "90-95% [of drivers] voted for it".
Speaking before confirmation the Halo's introduction had been delayed, Vettel said: "I think it's up to us to make sure it does happen, otherwise I think we'd be quite stupid."
Chris Medland's 2016 German Grand Prix preview
FEATURE: Halo: splitting opinion in F1
Scene at the 2016 Hungarian Grand Prix
Keep up to date with all the F1 news via Facebook and Twitter