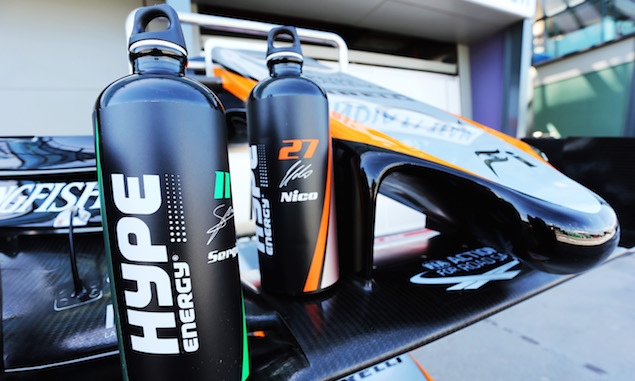 Force India has announced a new sponsorship deal with energy drink manufacturer Hype.
As part of the new partnership, Hype Energy branding will appear on the side pod wing of the team's 2015 car, the VJM08, as well as on the drivers' race suits. Hype Energy was one of the first energy drinks on the market in 1994, with the brand now owned by former Formula One driver and Le Mans 24 Hours winner Bertrand Gachot.
Gachot - who used to race for Jordan which eventually became Force India - says he is delighted to be involved with the team once again.
"I am very proud and excited about our new partnership with Sahara Force India; I am proud for Hype Energy drinks to sponsor the team I used to race with over 20 years ago!" Gachot said. "I loved working with its team members and I'm thrilled to meet them again.
"I'm also excited because Hype has a long history in motor-sports and lifestyle sponsorship. As the team's supplier of Energy drinks over the last three years, this is a natural progression of our business collaboration."
Team principal Vijay Mallya said the partnership with Hype was a good match for Force India's image.
"I am delighted to welcome Hype Energy drinks as our latest partner on the eve of the new season," Mallya said. "It's a dynamic and exciting brand that is a good fit with our team image and Formula One as a whole. The global appeal of the sport will provide Hype Energy drinks with a strong platform to continue building its global network and we look forward to a successful partnership."
Click here for Thursday's gallery from the Australian Grand Prix
Keep up to date with all the F1 news via Facebook and Twitter