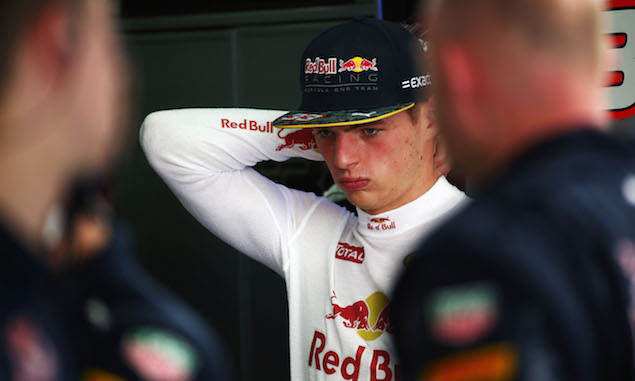 Red Bull's chief race engineer Paul Monaghan says Max Verstappen "has a very bright future" due to the strengths he already has at such a young age.
Verstappen was promoted to Red Bull from Toro Rosso ahead of the Spanish Grand Prix and duly won his first race with the team. Since then, Verstappen has scored a further three podiums, finishing second in Austria and Silverstone before taking third place in Hockenheim.
As an 18-year-old in only his third season of single seater racing, Verstappen now needs to help develop a car in a top team but Monaghan believes the Dutch driver already provides good technical feedback to Red Bull.
"I would say all drivers continue to learn," Monaghan replied when asked where Verstappen still needs to learn. "I'd say if you asked the elder ones on the grid 'are you still learning?' they'd say 'yes'. The curve might change its gradient, shall we say.
"Max's feedback is, I would say, very good; for someone of his age it's particularly good. He is aware of the salient points of his needs amongst the variety of thoughts he may have as he finishes a run or a session.
"I'd say his racecraft is pretty strong. His ability to withstand pressure was comfortably demonstrated in Spain, Austria, Hungary. So he's got a very bright future. He's a very talented young man.
"I think with Daniel [Ricciardo] as his team-mate, it's a very good benchmark for him. Daniel is an exceptional driver. His feedback is very thorough. He picks up on the salient points again.
"It's up to us to give them the environment in which they can express themselves and grow as drivers, human beings. And install a sense of team camaraderie and teamwork into them and see where we go."
Scene at the German Grand Prix
Quotes of the week - German Grand Prix
Breakfast with ... Christian Danner
Keep up to date with all the F1 news via Facebook and Twitter