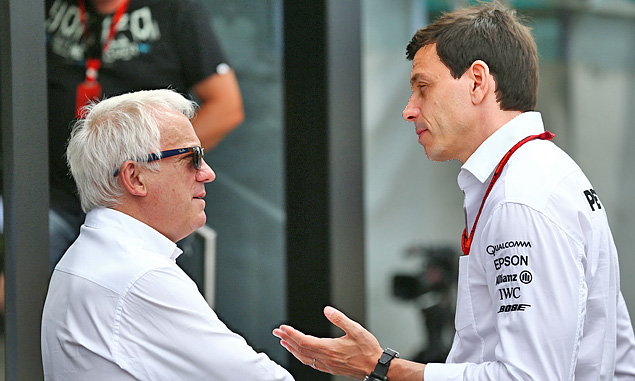 Toto Wolff has added his voice to those drivers and team managers calling for a relaxation of penalties for exceeding track limits, saying that the inconsistent handling of the issue in recent months has become confusing for all concerned, and boring for fans.
"We are having a million miles of run-off areas. It becomes less and less spectacular and we wonder why audiences are having less interest in what we do," the Mercedes boss told Motorsport.com this week. "The tarmac run-off is so boring anyway."
Wolff said that he was of the opinion that the drivers should be able to go wherever they wanted in order to find the quickest racing line, restricted only by the natural limits and hazards of the circuit itself.
"If you go off the track, you should be either in the wall or the gravel bed," he said. "If it is tarmac, let them take the quickest line. What is the difference?
"This is a six-kilometre track and two centimetres should not be changing that," Wolff pointed out. "Let's leave the drivers alone and let them drive."
Red Bull team principal Christian Horner has recently voiced similar feelings on the question of track limits. But Wolff's view is not universally shared, with racing director Charlie Whiting very much of the view that track limits need to be set and enforced at each Grand Prix on safety grounds.
"If it is somewhere really unsafe because we are coming too close to the barriers or when you rejoin you are putting others in danger, then okay, look at the specifics of that one corner," Wolff conceded. "If there's a problem with run-off areas, then make a big kerb, because nobody is gonna go on the kerb.
"Charlie's philosophy is a clear one: we need to be enforcing track limits," he added. "But this is racing, we should be balls-out out there, flat-out. If the fastest line takes you over a kerb so that sparks fly and cars are unstable, this is what we want."
Chris Amon: A legend's career in pictures
Silbermann says ... Beer can save F1's future
Breakfast with ... Christian Danner
Keep up to date with all the F1 news via Facebook and Twitter