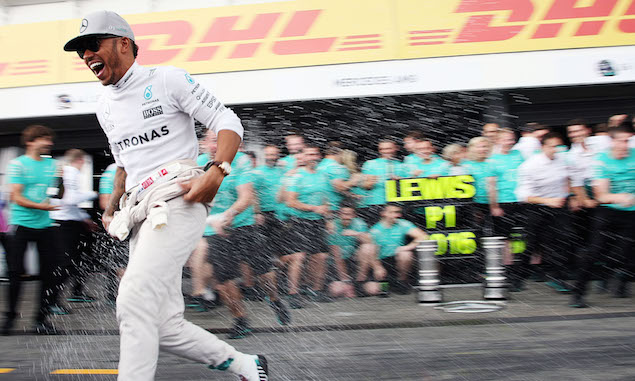 Lewis Hamilton expects the 2016 world title to mean more to him if he wins it as a result of the deficit he faced early in the season.
The triple world champion had a difficult start to the year, failing to win any of the first four races as team-mate Nico Rosberg opened up a sizeable advantage. The pair then collided at the Spanish Grand Prix in May, leaving Rosberg with a lead of 43 points over Hamilton, with Ferrari's Kimi Raikkonen moving up to second place in the standings at the time.
However, an impressive run of form from Hamilton has seen him overturn that deficit by the summer break, with six wins in the seven races since Barcelona leaving him with a 19-point advantage.
Asked if this year's title would mean even more to him given the problems he has faced - with engine penalties expected later in the year - Hamilton replied: "I think it will.
"I think for me, all race wins, all results, but all race wins feel different for a different reason, surprisingly. You've had a different start, you've felt different on that day. Sometimes it's been easier and sometimes it's been harder, sometimes you've felt more stress, sometimes you've felt fitter, all these different things.
"It always feel new and every championship I've won I seem to enjoy it more and more and more and winning those championships has always been a different journey, so this feel one of the newer, completely new journey for me and I think if I get to where I want to be at the end of this journey then for sure it's going to feel as good if not greater than ever before."
And Hamilton says part of his frustration earlier in the year was due to the fact he felt like he was driving well but simply being unfortunate with reliability issues.
"Well we had 2014 where I was behind a little bit, I mean I've had ups and downs but I think this has definitely been harder because it hasn't felt so much fault from me not being focus or me not training or taking the time it's more other things, outside things that have affected that.
"As I said it's been a really good experience and I honestly feel stronger today and able to handle whatever it is that is going to be thrown at me."
FEATURE: Romain Grosjean answers your questions
F1i Classic: The unforgettable Harry Schell
Exclusive F1i interview with Carlos Sainz
Explaining the F1 summer break
Keep up to date with all the F1 news via Facebook and Twitter