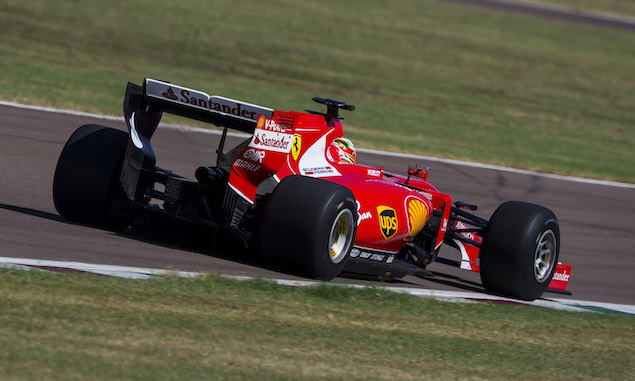 Pirelli is analysing the performance of the Ferrari and Red Bull mule cars to see if they provide representative downforce to test the 2017 tyres.
With wider tyres being introduced next season alongside different aerodynamic regulations, Pirelli started testing the 2017-size tyres in Italy at the start of the month as Ferrari and Red Bull provided modified 2015 cars with added downforce.
Motorsport director Paul Hembery told F1i he was encouraged by the smooth start to the program but wants to understand how close to the expected downforce levels the mule cars are.
"Obviously we did some wet testing in Fiorano and some dry running at Mugello," Hembery said. "The key thing first of all is to understand how close the data from the car is compared to what we're going to be working on next year because that can have a big influence of course on the work we're doing. That analysis is going on now to understand if we have something that is representative or if it's a little bit far away. That's key for us.
"I am pleased obviously to finally get the full-sized tyre onto a car and get some running done. But I think at this stage the only thing we can say is that we're at the start of a process that is quite intense and over the next three or four months we've got plenty to be doing."
Asked if he was relieved there were no surprises from the opening four days of testing, Hembery replied: "Yeah, because we're changing everything, structured compounds, wider tyres, changing the way the whole package works.
"Assuming we're getting a 20-25% increase in downforce next year and we only see a small amount here then that has a big impact on what's going on in the footprint of the tyre and how we design a tyre.
"So there's a few aspects of that which really need checking now and that's what's going on. We've got a team in for what should be the holiday for most people but we've got a team working on that and we're looking forward to going through the process. It's the first step of many."