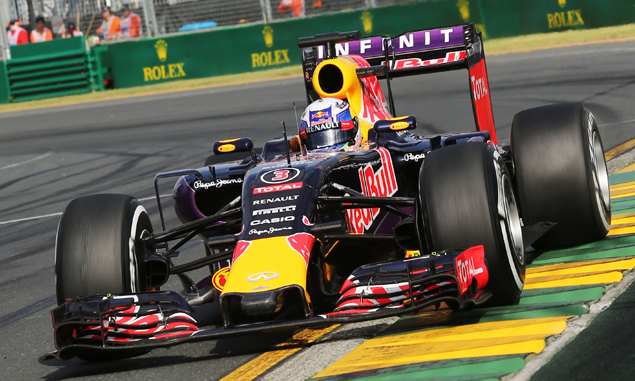 Daniel Ricciardo concedes Red Bull is trailing the current frontrunners by a substantial margin after he could only manage sixth in his home race, a lap down from race winner Lewis Hamilton.
The new Red Bull leader had qualified seventh around the Albert Park Circuit but eventually started P6 following Bottas' withdrawal. From there, Ricciardo had a pretty uneventful afternoon as he failed to really challenge Sauber rookie Felipe Nasr for fifth.
The 2014 revelation finds little comfort in finishing the race as the highest Renault-powered driver, with the French engine supplier suffering from poor reliability and struggling to get on top of its driveability issues in Melbourne.
"We'll take the points but realistically we're a long way off," said Ricciardo. "So we need to make some improvements.
"It was, unfortunately, quite a boring race; there was not much going on. The last sort of 20 laps, I tried to make a push for Nasr, try to put some pressure on him. But as soon as I got close, it fell away again.
"Looking at where we ended, a lap down and not able to catch or pass the Sauber, from that respect it's not so satisfying. We've obviously got a lot of work to do… We've got to find some pure pace... in the next few races."
Asked if he expects to be able to show the RB11's true potential sooner rather than later, Ricciardo remains pretty evasive.
"We know more or less all of the issues but unfortunately we have not got on top of it yet.
"For sure the potential is all there. We know where some big chunks of lap time lie, so it's just a matter of trying to understand (the problems) and overcome them.
"It's hard to know really, maybe Malaysia everything works well but it could be a little while (before we improve)."
Click here for the full gallery from the Australian Grand Prix
Keep up to date with all the F1 news via Facebook and Twitter