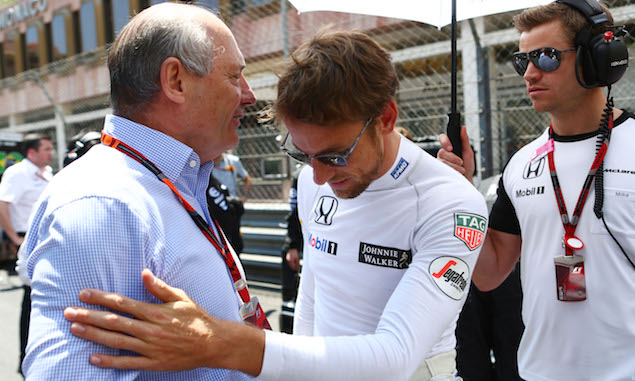 Jenson Button's sabbatical from racing in F1 next season is not a retirement as he may race in 2018, says McLaren boss Ron Dennis.
The 2009 world champion announced on Saturday evening he will not race for McLaren in 2017, with Stoffel Vandoorne taking his seat as Button takes on roles as an ambassador and reserve driver. With McLaren holding an option over Button to race in 2018, Dennis was keen to stress it does not necessarily mean the Briton will not return to the grid in future.
"To avoid any confusion, forget the word retirement," Dennis said. "That's not in the vocabulary, that isn't what we're saying. Jenson is one of the team's drivers for the next two years. If Jenson's needed to drive next year for any reason, he will drive.
"So what does that mean? It means that you've got a super-fit guy, there's absolutely no question when you look at the races, you look at qualifying and everything that Jenson is more than capable of winning grands prix and winning world championships right now.
"But it's not the physical, it's the mental side. Not a lack of determination to win but just the constant grind of being in Formula One. So we talked and actually it's a very, very practical and logical solution. Let Jenson get his mind balanced and re-established and relaxed and then look at the future."
And Dennis says the two-year deal Button has signed ensures he remains a firm part of McLaren's future plans.
"The subtle difference between those drivers who have gone before and taken a year off - the [Alain] Prosts, [Kimi] Raikkonens, other drivers - they never had a contract. They went away and they came back but they never had a contract like this one.
"So it's a very creative, imaginative contract which works so well for both of us. He's smiling, and when we were talking about it it was an up and down, emotional conversation. This is something that is supported at all levels of our organisation and also with Honda. We think it's a perfect solution for the circumstances that exist within our team at the moment."
QUALIFYING REPORT: Imperious Hamilton storms to Monza pole by 0.5s
Silbermann says ... Mad about Max, Monza and Massa
Claire Williams on Felipe Massa and 2017 driver plans
Romain Grosjean column: Speed, sponsors and scheduling
Keep up to date with all the F1 news via Facebook and Twitter