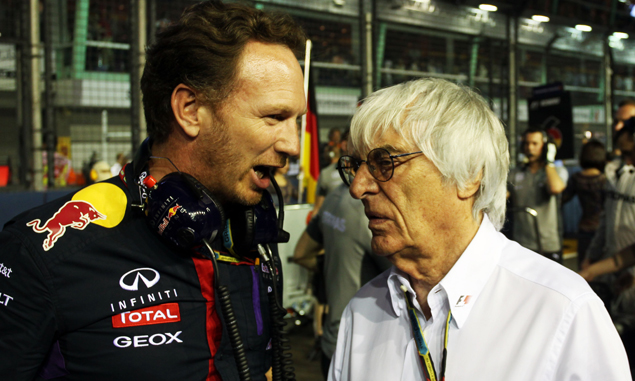 Formula One supremo Bernie Ecclestone thinks that Red Bull team principal Christian Horner is "absolutely 100 percent right" in asking the FIA to level the playing field in terms of engine performance, reports Reuters.
Mercedes drivers Lewis Hamilton and Nico Rosberg stormed to a dominant 1-2 finish in the Australian Grand Prix, with third-placed Sebastian Vettel over half a minute behind.
Meanwhile, Red Bull leader Daniel Ricciardo had to settle for sixth in his home race as he crossed the line a lap down in his Renault-powered RB11.
While Horner has labelled the French power units as "undriveable", he also believes that Formula One's ruling body should intervene to rein Mercedes in lest fans start walking way from the sport. The Red Bull team principal has even hinted at a special "equalisation mechanism" that exists within the FIA regulations.
"There is a rule that I think (former FIA president) Max (Mosley) put in when he was there that in the event… that a particular team or engine supplier did something magic – which Mercedes have done – the FIA can level up things," Ecclestone told Reuters.
"They (Mercedes) have done a first class job which everybody acknowledges. We need to change things a little bit now and try and level things up a little bit.
"What we should have done was frozen the Mercedes engine and leave everybody else to do what they want so they could have caught up. We should support the FIA to make changes."
Also asked on Red Bull's threat to pull out of F1 if the current engine regulations do not evolve, Ecclestone reminds that the Milton Keynes-based team has committed to stay at the top echelon until at least 2020.
"Whether they will, who knows? (Red Bull company owner) Dietrich (Mateschitz) is a sporting guy and I don't think he'll stop because he's being beaten. He's more likely to stop if he was winning."