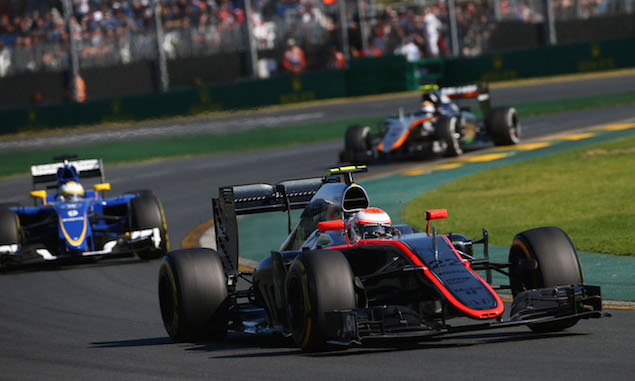 Jenson Button says McLaren is at the stage where improving one area of the car can lead to a major jump forward in performance.
McLaren was comfortably off the pace during the Australian Grand Prix as Button finished the race two laps behind the Mercedes pair of Lewis Hamilton and Nico Rosberg. However, Button says the team had to run the car in such a conservative mode just to finish the race that it had a major impact on performance.
With the Malaysian Grand Prix taking place from March 27-29, Button says being able to improve one area of the MP4-30 ahead of that race is likely to result in clear progress on track.
"We know we've got a lot of work to do with power, drivability, downforce, and the issue is you've got to adjust so many things in the car to save fuel and save everything that it hurts drivability as well which makes it trickier," Button said.
"So hopefully with a bit more learning there are many areas that we can improve in the next race. You improve one and suddenly you gain a lot of time because other things have started working for you."
Click here for the full gallery from the Australian Grand Prix
Keep up to date with all the F1 news via Facebook and Twitter