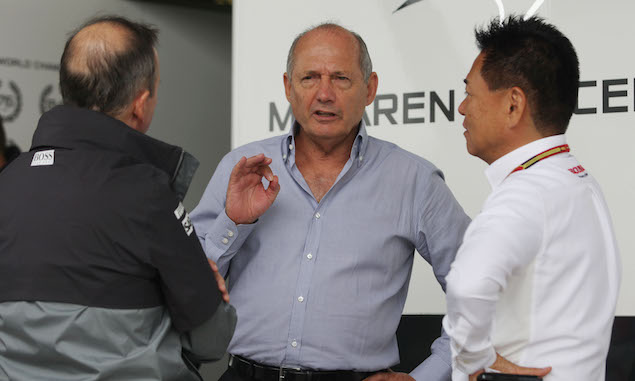 Ron Dennis says he is excited by the "enormous" potential shown by the McLaren-Honda partnership.
McLaren launched the Honda-powered MP4-30 on Thursday, which is its first car carrying an engine from the Japanese manufacturer since 1992. The previous partnership saw McLaren win four consecutive championship doubles from 1988-1991, and while Dennis warns of a big challenge ahead he said the previous results display just how successful the pairing can be this time around.
"McLaren Technology Group is driven by the relentless pursuit of technological perfection, and, perhaps more than any other element of our portfolio, Formula 1, which is the remit and responsibility of McLaren Racing, and now McLaren-Honda, most famously epitomises that," Dennis said.
"McLaren-Honda is a partnership focused on performance, technology and innovation, and there's no better example of that than the results achieved in our first collaboration in the 1980s and 1990s. I was Team Principal all those years ago and, while I don't tend to like looking back to the past, our previous record of sustained success was certainly instrumental in creating the confidence to make the decision to partner with Honda again. Now, there's real hunger to demonstrate the capabilities of the huge talent pool we share between us, and I'm totally committed to driving progress and achieving further success.
"Although our renewed alliance began again many months ago, the launch of the McLaren-Honda MP4-30 marks the start of a lengthy journey. We've come a long way already and, although there's a lot of work to do before we can expect to repeat the level of success we enjoyed together 25-or-so years ago, it's already clear that there's enormous synergy and potential in our partnership, and I'm positive that, together, we'll get to where we want to be: winning Grands Prix and eventually World Championships as McLaren-Honda."
Click here to see the full gallery of the first McLaren MP4-30 images
Keep up to date with all the F1 news via Facebook and Twitter