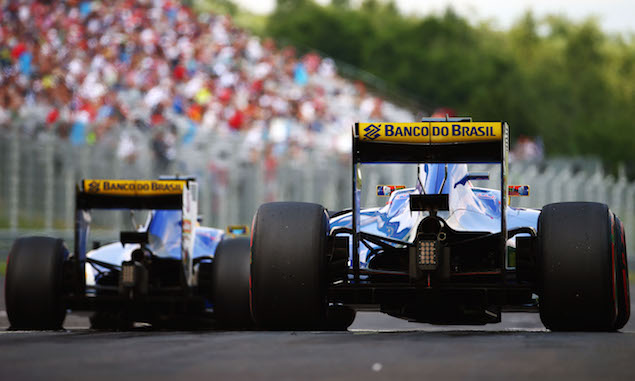 Monisha Kaltenborn claims that Sauber's line-ups have never been solely based on the financial backing potential candidates could bring to the Swiss outfit and adds that next year's pairing will be no exception.
After experiencing a torrid start to its 2016 campaign due to meagre resources limiting the development of the C35, Sauber's Formula One future was secured over the summer following fresh investment from Swiss company Longbow Finance.
Marcus Ericsson and Felipe Nasr have been partnered at Hinwill for two years, with both bringing substantial sponsors along. Their signing actually led to Sauber facing legal action from ex-driver Adrian Sutil and former reserve Giedo van der Garde, as both claimed the team had reneged on their deals for 2015.
"We have never at Sauber just taken a decision for financial reasons and we are known for that," Kaltenborn told Motorsport.com.
"Financial reasons have to be considered, but we have always looked at the driver and have to be first convinced of the driver when we take him as a race driver.
"If money is required, which isn't the current situation, not only for us, then one would have to take that into consideration as well. So I think nothing is going to change at that policy for us."
There has been speculation linking Sauber's new owners to Ericsson's backers, and the Swede is likely to remain for a third consecutive season with the team.
Sauber could actually have an unchanged line-up in 2017, though Nasr has been tipped as a potential replacement for fellow Brazilian Felipe Massa at Williams.
Sauber's healthier financial state has been highlighted by the outfit's recent recruitment drive that has seen it sign Xevi Pujolar as Head of Track Engineering, Nicolas Hennel de Beaupreau as Head of Aerodynamics, and Ruth Buscombe as strategy engineer.
TECH: Under the skin of the Red Bull RB12
2017 F1 driver line-ups so far
F1i Classic: 'Gentleman Jo' Bonnier
Estimated F1 driver salaries for 2016
Keep up to date with all the F1 news via Facebook and Twitter