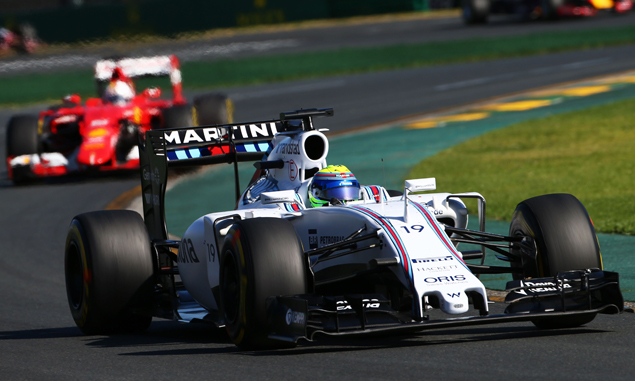 Felipe Massa has pinpointed power unit improvement as the biggest area of progress for both Ferrari and Sauber.
The Williams driver was fighting for a podium finish with Sebastian Vettel in Melbourne but was leapfrogged by the Ferrari during his only pit stop and had to settle for fourth, some 3.5s behind the four-time world champion.
While Mercedes-powered Williams clearly had the upper hand over the Maranello-based team in 2014, both outfits now seem to be on equal footing. Massa believes this boils down to his former squad having made significant strides on its power unit.
"If you see how (Ferrari) finished the season and how they are now, (power unit) is a big step for sure," said Massa.
"Just look at some parts of the lap times, just look at the speed. At the end of last year, we were maybe 10, 12, 15kph quicker than Ferrari. Now they are similar, maybe even a little better than us."
Massa also uses Felipe Nasr's strong fifth place finish in the Australian Grand Prix to back up his case. Driving the Ferrari-powered Sauber C34, the Brazilian rookie was able to pick up his maiden F1 points for a team that had not scored any in 2014.
"Who finished fifth? Sauber. Where were they last year? And not having any money to put in the car, so there is a difference (in the power unit).
"This is a fantastic result but it's a team that does not invest so much… and they have just improved a lot, which I think is coming from a different part."
Click here for the full gallery from the Australian Grand Prix
Keep up to date with all the F1 news via Facebook and Twitter