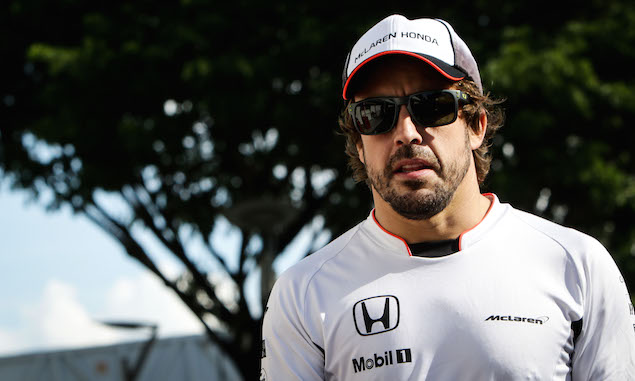 Fernando Alonso has described closing the power gap to Mercedes in 2017 as a "very optimistic target", not only for Honda but also for Ferrari and Renault.
The German manufacturer has been dominating the 1.6-litre V6 turbocharged era since 2014, as highlighted by its works team being on pace to secure a third consecutive championship double.
After a suffering a dismal return to Formula One in 2015, Honda has taken significant strides this year, though partner team McLaren still trails the front-running outfits.
Asked whether the Japanese constructor could reel in Mercedes in 2017, Alonso, who will be in the final season of his three-year deal, replied: "I think that's a very optimistic target for either Ferrari or Renault or Honda.
"In our case we will improve a lot for next year because I think we learn a lot also this year, last year we learn a lot but let's say it's normal in the first year.
"This year, we were able to run and have less problems, less reliability problems etc. we were able to learn a lot more with the laps we were able to put together and the things that we try, so I expect a bigger step for next year."
A double world champion with 32 race wins to his name, Alonso adds that bringing McLaren-Honda back to victory would have a special flavour given how much effort has been poured in since the Spaniard returned to Woking.
"I think the first win with this project will be quite a big thing for any of us. I don't know if I will have that chance, or if Stoffel [Vandoorne, who will replace Jenson Button alongside Alonso in 2017] will have that chance or whatever.
"But when that day arrives everyone that was involved in this project from day one, from the very beginning, from zero, from being 10 seconds away in winter testing last year, 5.8 seconds in Australia last year, and things like that, when arrive that first win it will be a massive achievement and hopefully we will feel very proud."
Romain Grosjean column: Drivers have a certain shelf like
Chris Medland's 2016 Singapore Grand Prix preview
TECHNICAL: Under the skin of the Red Bull RB12
2017 F1 driver line-ups so far
Keep up to date with all the F1 news via Facebook and Twitter