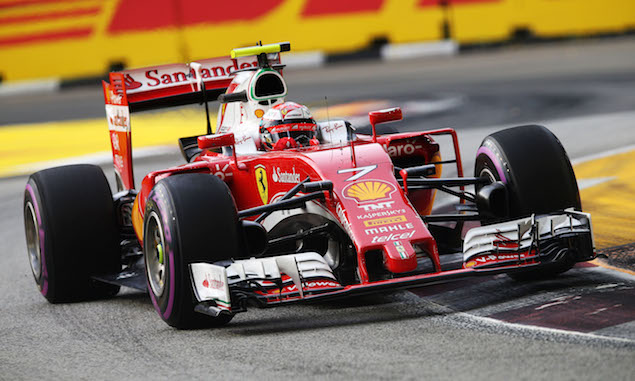 Kimi Raikkonen has brushed off criticism about Ferrari's race strategy in Singapore, saying it's always easy to know what is right after the events unfolded.
The Finn was running in third at Marina Bay when fourth-placed Lewis Hamilton pitted for a fresh set of tyres. Ferrari immediately reacted to Mercedes' move and radioed Raikkonen in one lap later. The call eventually did not pay off, with Hamilton able to make the undercut work to finish on the podium.
Maurizio Arrivabene defended the team's decision afterwards, whereas the 2007 world champion was confident he could have gone to the end of the race without pitting again.
"We all do our best and unfortunately sometimes I make mistakes, sometimes it happens on the team's side," Raikkonen told reporters ahead of this weekend's Malaysian Grand Prix.
"We've always said we work as a team and whatever the issues are, we have to learn from them and try to avoid them in then future. It's as painful for me as it's painful for them, whatever happens."
Raikkonen insists there is no guarantee he would have been able to hold off a charging Hamilton on fresher rubber anyway.
"Would I have stayed ahead of Lewis without the stop? Afterwards it's always easy to say it, but I guess if we would have stayed out they would have caught us before the end of the race.
"Whether they would have passed us, that's a different mater but if they did, then it wouldn't change the final result. But it's impossible to say, because so many things could have changed.
"We were obviously not planning to fall behind them and we could have done things better in many areas but that's part of learning. It's not ideal but sometimes it goes like that."
Romain Grosjean exclusive column: Haas can build momentum for 2017
Chris Medland's 2016 Malaysian Grand Prix preview
TECHNICAL: F1 telemetry: The data race
FEATURE: When F1 team-mates fight for the title
F1i Classic: Sepang 2001 - Ferrari pulls off a masterstroke
Keep up to date with all the F1 news via Facebook and Twitter