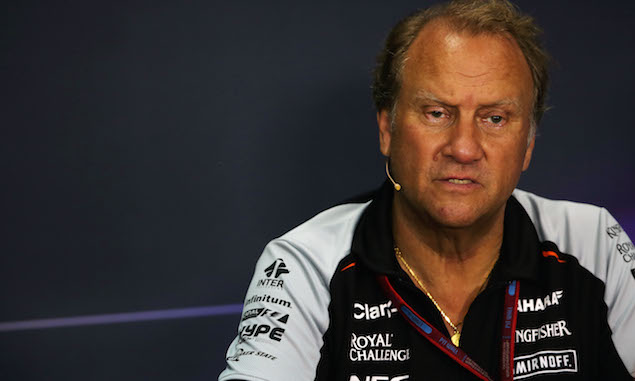 Force India and Sauber's complaint to the European Union [EU] "has gone to the next level", according to Bob Fernley.
The two teams lodged a complaint with the EU last year over what it believes to be a breach of competition regulations due to the unequal distribution of funds in F1. With a year having passed since the issue was raised, Force India deputy team principal Fernley says the EU has taken an interest and wants more information.
"Yes, we have put the complaint, that's common knowledge, I think about a year ago, it has gone through due process and I can confirm it has gone to the next level in terms of a request for further information from the EU," Fernley said. "Who those have been sent to, I don't know.
"From our point of view, because we're in legal process with them, we can't say anything about what we're doing – but I can confirm it is at that stage from an EU point of view."
Fernley was also asked if the teams are seeking legal advice from in the United States, and would not rule out doing so in order to bring about change in the distribution of funds.
"With regard to your question on the US legal matters, I think, you know, it's not appropriate for us to discuss something where we're getting legal advice. It's probably a bit speculative – but for sure everything is still on the table from our side.
"We are very, very committed to challenging what we believe is a very anti-competitive system with these bi-lateral agreements. Whatever it takes to deliver that, we will certainly look at."
The three other team representatives in the FIA press conference alongside Fernley - McLaren's Eric Boullier, Toro Rosso's Franz Tost and Manor's Dave Ryan - all denied having been contacted by the EU for more information.
GALLERY: Magnussen's fire at the Malaysian Grand Prix
FP2 REPORT: Hamilton hits back to lead Rosberg in FP2
Silbermann says ... Bugged by Liberty
Romain Grosjean exclusive column: Haas can build momentum for 2017
Chris Medland's 2016 Malaysian Grand Prix preview
Keep up to date with all the F1 news via Facebook and Twitter