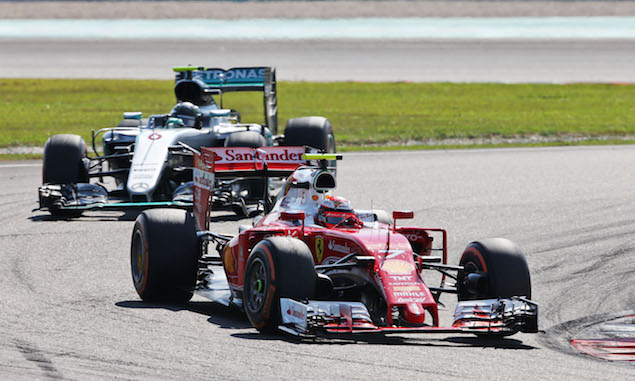 Kimi Raikkonen says he is sure Ferrari will return to winning ways, though the the Finn admits "it takes time".
The Scuderia has not tasted victory in over a year and even slipped behind Red Bull in the 2016 pecking order. Despite the drought, Raikkonen remains confident his team is on the right track.
"We are here to try to win and anything less than winning is obviously not why we are here or why all the guys in Ferrari work hard to try to be best," the 2007 world champion said during Thursday's FIA press conference ahead of the Japanese Grand Prix.
"Obviously after it depends on many other things also but we are lacking speed a bit but we're not giving up and we keep trying and improving and I'm sure we'll get there. It just takes time."
While Ferrari's performance has slumped this season, Raikkonen's form has improved. The 36-year-old has already eclipsed its 2015 tally of 150 points and currently leads team-mate Sebastian Vettel by seven points.
"It's been a more solid year and more consistent, and things are running more [smoothly]. But like I said, we want to be back in the front and fighting consistently for putting ourselves at least to have a good chance of winning.
"In a way it's been better than the last few years but it's still not what we want."
Raikkonen will continue to partner Vettel at Ferrari in 2017.
Chris Medland's 2016 Japanese Grand Prix preview
Scene at the Malaysian Grand Prix
2016 Malaysian Grand Prix - Quotes of the week
Keep up to date with all the F1 news via Facebook and Twitter