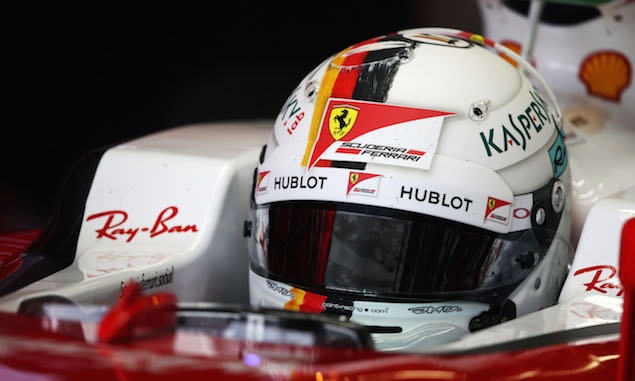 Sebastian Vettel is not happy with the balance of his Ferrari after being half a second slower than team-mate Kimi Raikkonen in FP2 at the Japanese Grand Prix.
Raikkonen was third quickest behind the two Mercedes drivers on Friday afternoon, just 0.3s off Nico Rosberg's pace-setting time. Vettel was half a second adrift of his team-mate and also behind Max Verstappen, but says he is not happy with the handling of his car at this stage of the weekend.
Asked about the gap to Raikkonen, Vettel replied: "Yeah, I think he got a better lap.
"Overall I'm not entirely happy with the balance, but I think it's something we can work on and improve."
However, Vettel is optimistic he can still target a place on the podium at Suzuka despite having a three-place grid penalty hanging over him for hitting Rosberg at the start of the Malaysian Grand Prix.
"[The podium] is always possible and they say it might rain at some point this weekend, so I think we need to be ready. For sure it doesn't help if you are starting a little bit further back, but overtaking is possible here even though it's not easy.
"But for now we need to work on the speed of the car and I think ideally we would love to have more grip around here because it feels fantastic if you do, but I think we can tune the balance and distribute the grip a little better so that we are in better shape tomorrow."
REPORT: Rosberg edges out Hamilton as Ferrari shows pace in FP2
FEATURE: Silbermann says... Snapchat and soap in Suzuka
Chris Medland's 2016 Japanese Grand Prix preview
Keep up to date with all the F1 news via Facebook and Twitter