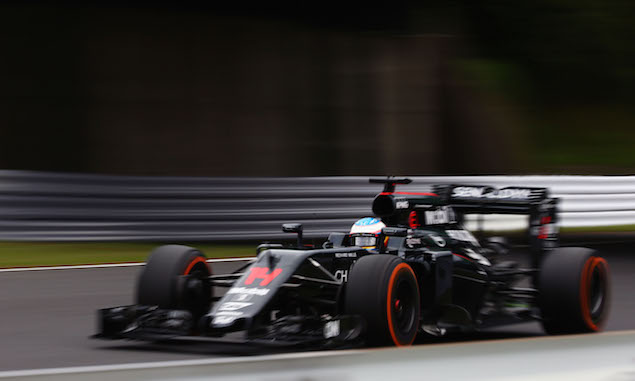 Fernando Alonso expects McLaren to struggle to repeat its Friday positions throughout the rest of the Japanese Grand Prix weekend.
Despite a spin which saw him damage the rear of his car in FP1, Alonso finished first practice in ninth place and followed that up with eighth in the afternoon session. However, with the midfield so tight - half a second covered seventh to 16th in FP2 - Alonso believes McLaren could slip back.
"I think we have to wait for Saturday to see where we are but I'm sure we won't be so far up the order as today," Alonso said. "In the first session I got a reasonably good lap time, in spite of my minor scare, and then we had a bit of a problem with an exhaust, that cost us a bit of time and didn't allow me to go out and try the Medium tyres.
"We tried to make up for the lost ground in the second session, managing 37 laps, so we gathered very good information about the tyre degradation. I think we ended up in P8, Ricciardo couldn't complete his lap, so that means already P9 at best, and on top of that we already know than on Saturday the others can take more out of their engines, so we'll be fighting to get into Q3.
"Hopefully it won't rain in FP3, otherwise, with the changes we have to make, we'll walk into qualifying like into a bit of an unknown."
Asked about rain in qualifying itself, Alonso says there are no guarantees of a better result in wet conditions.
"If it rains it will change everything, but it can go your way or against you, as it's a bit of a lottery. You have to get the tyres right – intermediates or full wets – but in any case we have to do our best, be it dry or wet. It will be very tight to get into Q3 but we'll do our best."