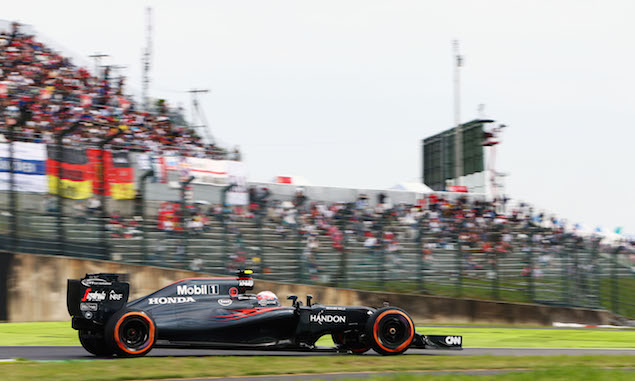 Jenson Button believes there is something wrong with his McLaren after struggling on his long runs during Friday practice at the Japanese Grand Prix.
While Button was 16th following the qualifying simulations in FP2, he was part of a very close midfield battle which saw ten cars covered by half a second. However, his long run pace was a concern for the 2009 world champion, who says McLaren needs to investigate whether there is a problem rather than simply a poor set-up.
"I think the day went well, actually," Button said. "Our one-lap pace wasn't too bad but I just didn't get a great lap in. it's actually very close, between 7th and where I am, 16th, just 0.4s. if we get a good lap tomorrow, which we will tomorrow, I think we could be popping into the top ten, which would be great.
"The long runs are a big issue that we need to solve. Normally that's my forte, but today it wasn't, we're a long way off. We're looking into the reasons, to see if there was something wrong with the car or not.
"Fernando had some slightly different bits on his car but even so we should have been more competitive in the long runs and not way off. I think there are some things we need to look into. I think there's something wrong rather than a set-up issue, so we have to get that right for tomorrow."
And Button admits he is hoping for rain whether he discovers a reason for his struggles on Friday or not, as it will open up more opportunities for McLaren.
"I'd love it to rain; it's the only chance we have to get a big result here. If it's dry, as long as we get everything together tomorrow, we can still get into the top ten. Then, as I said, degradation is massive, although I can get the tyres to work well over the first lap. That's why I think there's something wrong in my car."
REPORT: Rosberg edges out Hamilton as Ferrari shows pace in FP2
FEATURE: Silbermann says... Snapchat and soap in Suzuka
Chris Medland's 2016 Japanese Grand Prix preview
Keep up to date with all the F1 news via Facebook and Twitter