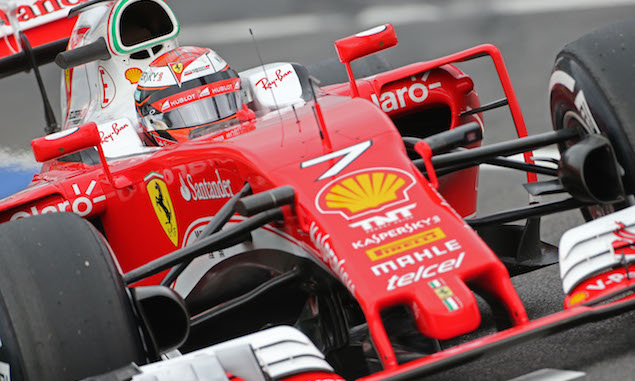 Kimi Raikkonen says Ferrari's continual improvements throughout the weekend at Suzuka resulted in him qualifying third for the Japanese Grand Prix.
Despite Red Bull appearing to have the edge over Ferrari in recent races, Raikkonen was third quickest in Friday practice and duly took third on the grid ahead of team-mate Sebastian Vettel. While Vettel will start from seventh place due to a grid penalty, Raikkonen was just 0.3s off pole position and praised the way Ferrari worked on improving the car.
With Red Bull running on the medium tyre in Q1, when asked if running on the softs in the first part of qualifying helped Ferrari gain an advantage, Raikkonen replied: "Well I think it doesn't harm, that's for sure.
"It's always easier when you have more sets of the same compound so you can fine-tune it a little bit, but obviously in qualifying there is not a lot you can do if it is correct or not. We have been suffering a bit with understeer all weekend and even in qualifying [we were] just too slow and missing out a little bit in the first sector but we got there in the end and ended up faster.
"So it's the very small details that have to come together and we more or less put them all together and it was quite good. It's a shame that Seb has a penalty but we will try to do the same if not better tomorrow."
Asked if the pace suggests Ferrari has made a step forward compared to Red Bull in recent races, Raikkonen reiterated his Friday comments that his lap time was better than he expected.
"I mean it's pretty much the same car we raced a week ago and I don't think many people had a lot of difference, but I was very positively surprised with how the car's been behaving and how quick it's been.
"Obviously it's been a bit tricky to get the right balance, but it's been pretty good. So far so good, obviously third is not exactly what we're looking for but I think we're very close and it was not too bad."
FEATURE: Silbermann says... Snapchat and soap in Suzuka
Chris Medland's 2016 Japanese Grand Prix preview
Keep up to date with all the F1 news via Facebook and Twitter