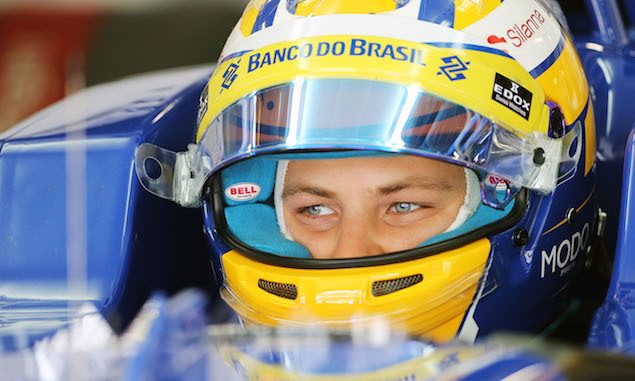 Sauber driver Marcus Ericsson says he was pleased to finish ahead of the two McLarens of Fernando Alonso and Jenson Button at the Japanese Grand Prix in a race where all 22 cars reached the chequered flag.
The Swede came home in 15th position, while Alonso and Button could only manage 16th and 18th on Honda's home turf. Ericsson feels he could have actually crossed the line a couple of places higher had he made his only stop of the race earlier.
"We had a pretty good race," the 26-year-old said. "We got our one-stop strategy to work and I think we maybe boxed one lap too late because I was ahead of Kevin [Magnussen] and he boxed one lap earlier, got the undercut and I came out just behind Kevin and he was just behind [Esteban] Ocon.
"If I had boxed one lap earlier, come out ahead of Ocon and Kevin I would have had this free track and I could have followed [Jolyon] Palmer like I did in the first stint. I was only a couple of seconds behind Palmer and he boxed one lap earlier still.
"So I think that's just one lap that has cost us quite a lot in the race. At least one, maybe two positions because I think we could have maybe got [Daniil] Kvyat as well then. That would have been only 13th but still 22 cars finished and we finished 15th on the road on pure pace. I think that's a decent race, beating both of the McLarens and one Toro Rosso [Carlos Sainz]."
Despite Sauber still looking to open its 2016 tally, Ericsson believes the team's performance across recent races as well as it influx of high-profile recruits bode well for the future.
"Nobody retired [in Japan] but if we were a couple of places higher up the road and a couple of retirements and we would have been there to pick up a point.
"So we are not as far off as we were in the middle of the season, let's put it that way. We are getting closer to the points and we just need a clean race and a bit better pace and then we can be there to pick it up.
"We are in a bit of a transition with new people coming in and doing their thing. It's not going to work perfectly overnight, so we need to give all these new people some time to do their thing with the team and their influence and it's getting there."
DRIVER RATINGS: Japanese Grand Prix
REPORT: Rosberg wins in Japan as Hamilton fights back to third
Breakfast with ... Tetsuo Tsugawa
FEATURE: Silbermann says... Snapchat and soap in Suzuka
Keep up to date with all the F1 news via Facebook and Twitter