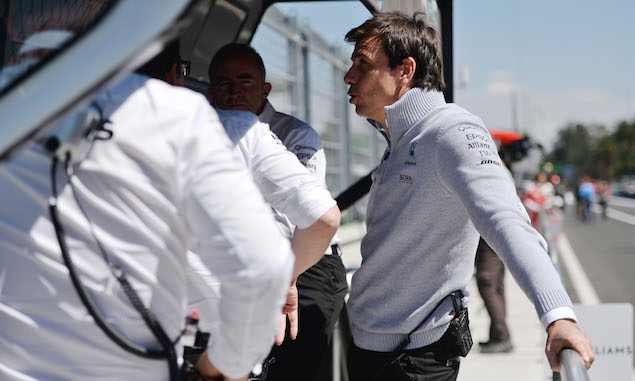 Toto Wolff says Mercedes feels a big responsibility to keep the strategy fight between its two drivers fair throughout the remaining races.
Nico Rosberg leads Lewis Hamilton by 26 points in the drivers' championship with three races remaining, meaning the German can theoretically win the title with victory in today's Mexican Grand Prix if Hamilton is no higher than tenth. Both cars will start on the soft compound tyre ahead of the Red Bulls on supersofts, and Wolff says splitting strategies is not the preferred option in case it ends up unfairly favouring one driver over another.
"We have quite a big responsibility towards the two that we want to win the race, but sending them on two different strategies not knowing is the right one could have an outcome than needs explanation," Wolff said. "We have had that in the past, asked questions why we sent a Driver A on that strategy and Driver B on that one when it was clear that was the better one.
"If we split the strategy the aim is to defend the win or because we don't know which is the better one. There is a responsibility, there is weight on our shoulders to get it right and be as neutral as possible in our decisions."
And Wolff admits there is no guarantee Mercedes has made the right choice regarding its tyre strategy, despite the general consensus being the soft is likely to be the much better tyre to start the race on.
"This is the name of the game, we've seen situations where we've not been completely clear which tyre is going to last, how graining or blistering is going to happen and when and how much the tyres need management to take them further.
"We have had that all through the season and the same [in today's race], the track temperatures have a big influence on the performance and behaviour of the tyre so that is pretty much one of the major variables of the race which you need to get right. It includes a lot of data, algorithms and common sense. We've been OK so far with getting it right often, but there is no guarantee that it will be like this ever."
15 minutes with ... Nico Rosberg
Silbermann says ... Masked in Mexico
Chris Medland's 2016 Mexican Grand Prix preview
Keep up to date with all the F1 news via Facebook and Twitter