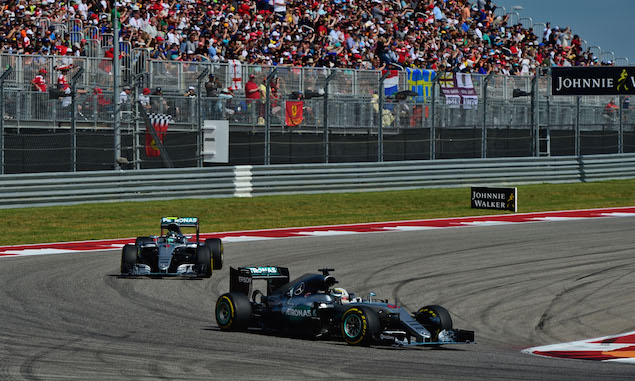 Toto Wolff says Mercedes have "maxed out on performance" under the current set of technical regulations, with the triple world champions set to add a sixth title in three years by the end of the season.
The German manufacturer has been the dominant force since the introduction of the 1.6-litre V6 turbocharged power units in 2014, winning 49 races and claiming 54 pole positions out of 57 events held before this weekend's Brazilian Grand Prix.
Having secured its third consecutive Constructors' title in Japan, Mercedes will once again see the Drivers' crown being decided between its two pilots Lewis Hamilton and Nico Rosberg.
"We're maxed out on performance, as is normal at the end of a regulation cycle, and when that happens everything becomes more marginal," Wolff said in reference to next year's sweeping regulation changes. "This is where we find ourselves right now, so we must remain focused on every last detail.
With two races to go, Rosberg holds a 19-point lead over Hamilton and can wrap up the title if he takes victory at Interlagos, where he has claimed the last two editions of the Brazilian GP.
"For Nico, all this talk of just needing to finish second in order to make it to the end is over," Wolff added. "He has it in his hands. If he wins the race in Brazil, he is champion.
"We've seen many races, particularly in the second half of this season, where he has coped well under pressure.
"But, mentally, I think this new situation is actually a bit easier in terms of tackling the situation with a little less pressure, as he still has another chance in Abu Dhabi."
Despite Hamilton facing an uphill battle to add a fourth championship to his already impressive list of achievements, Wolff is confident the Briton will give it all until the end.
"Equally, Lewis knows what he must do to keep his title hopes alive. He will never back down and that's what makes him one of the great ones.
"He has three championships and 51 victories under his belt - and no matter the outcome this year, we all know there will be more to come.
"It's a really interesting dynamic and great for the fans. As a team, we will do all in our power to provide both with the opportunities they need."
INTERVIEW: Fernando Alonso: Why F1 is no longer just for heroes
F1i Classic: Brazil 1991 - Senna's pain and glory
FEATURE: Foul Play or Foul Language
Scene at the 2016 Mexican Grand Prix
Keep up to date with all the F1 news via Facebook and Twitter