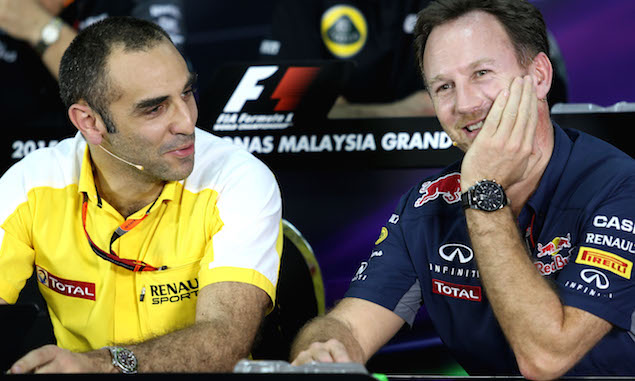 Renault is considering quitting F1 amid its current struggles and war of words with Red Bull, according to Cyril Abiteboul.
Red Bull has been openly critical of Renault's 2015 power unit having also been unhappy with last year's performance, with Christian Horner unhappy with a lack of progress. Renault is know to be exploring the possibility of taking over Toro Rosso, but Renault Sport F1 managing director Abiteboul revealed the current situation could see it leave the sport.
"I can confirm that we are looking at a lot of options, including getting out of Formula One," Abiteboul said. "Honestly, if Formula One is that bad for Renault's reputation, if we see that we struggle with the current formula, if Formula One is not delivering value what it costs Renault, bearing in mind that when you are an engine supplier you have no financial incentive to develop and to fund engine development.
"So this is what we are looking at, and obviously we think that we are a credible player in the sport but we want to compete amongst the best brands and that Formula One is good for meet and plan as a brand, then we need to think about what else can we do to what we are doing and if you do that, this is an open market, we have the capacity to have discussions with lots of parties. But as I've said, for the time being the focus is on engines."
When questioned about the possibility of a Toro Rosso takeover, Abiteboul said the current focus was solely on improving as an engine manufacturer.
"I think the first priority is to get the engine right. We've seen in Melbourne that it was not really the start of season that we were expecting, both on track and off track, so before starting really to think about doing a car I think we need to get the engine under control, so that's the priority for the time being.
"Then if we can do that we'll have to review the situation from a marketing and strategic perspective and see if there is anything better to do than we are doing currently, from more of Formula One to less of Formula One, but for the time being we are focused on what we are doing."
Click here for Friday's gallery from the Malaysian Grand Prix
Keep up to date with all the F1 news via Facebook and Twitter