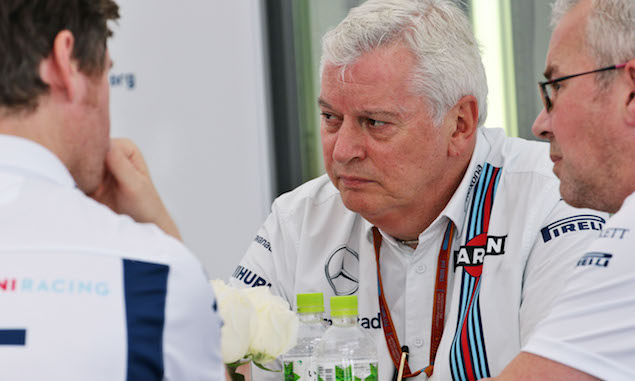 Pat Symonds believes performance convergence on the Formula One engine front will happen by 2017, though the Williams chief technical officer expects "things to move apart" on the chassis side.
Next year will see the introduction of faster, more aggressive-looking cars fitted with wider tyres in a major shake-up of the rulebook. However, teams will continue to use the 1.6-litre V6 turbocharged power units that have been raced since 2014.
Mercedes has been the dominant force in the current hybrid era but the likes of Ferrari and Renault have been steadily closing the engine gap, with progress also noticeable at Honda after a challenging first campaign.
"You get convergence in time," Symonds replied when asked whether he expected to see big gaps at the start of 2017. "The classic example of that of course is the power units. The power unit working group said 'Don't mess around trying to get convergence, it will happen naturally by 2017'. I think they're right.
"I think by 2017 there is not going to be much between the engines and the same is true with the chassis. You do get this convergence, probably not quite as marked as you get on the engines, and therefore when you change the regulations it is likely things will move apart."
"[New regulations] can certainly change the order but they won't necessarily bring things together. Time brings things together."
Last April, the World Motor Sport Council voted in changes to the power unit regulations for 2017, which included a reduction in costs, a guarantee of supply, and the removal of the oft-maligned engine development tokens that was seen as hindering engine development.
Engine parity was also one of the key issues raised at the time, with plans to bring performance closer together by way of "constraints on power unit part weights, dimensions and materials, and on boost pressure" tabled for 2017 and 2018.
From the cockpit: Felipe Nasr on two precious points in Brazil
TECHNICAL ANALYSIS - Interlagos
Scene at the Brazilian Grand Prix
Quotes of the week - Interlagos
Keep up to date with all the F1 news via Facebook and Twitter