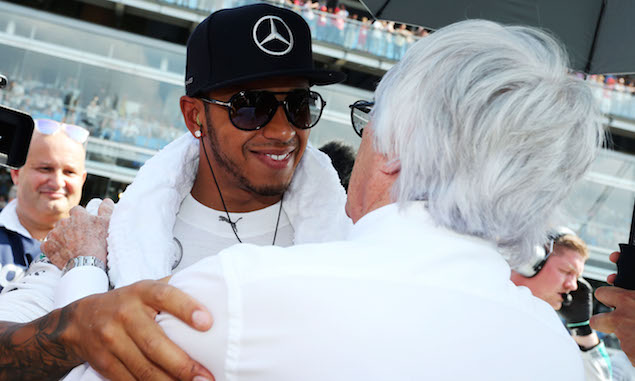 Bernie Ecclestone has described Lewis Hamilton as "100% box office" and praised the way he has taken to the role of world champion.
Hamilton won his second drivers' championship in 2014, beating team-mate Nico Rosberg to the title in Abu Dhabi as Mercedes dominated. Following his success, Hamilton made numerous appearances on television and radio before winning the BBC Sports Personality of the Year award and Ecclestone says he has told former champion Sebastian Vettel he should learn from the way Hamilton has promoted both himself and F1.
"As a driver he is absolutely outstanding, as good as there's ever been," Ecclestone said. "Apart from the fact he's talented, he's a good guy, he gets out on the street and supports and promotes Formula One.
"He's 100% box office.
"I told Sebastian 'you should be doing what he's doing' - the job of world champion. He was the champion and got paid money for that, but these guys think their only job is racing a racing car. It goes a bit further than that.
"Look at (Sir) Jackie Stewart, who is still making quite a bit of money, and he hasn't been in a car for a few years. But it works because he's looked after his image and he still does a good job. Perhaps these guys think when they stop that'll be it.''
Click here for three reasons why Honda is struggling at the start of 2015