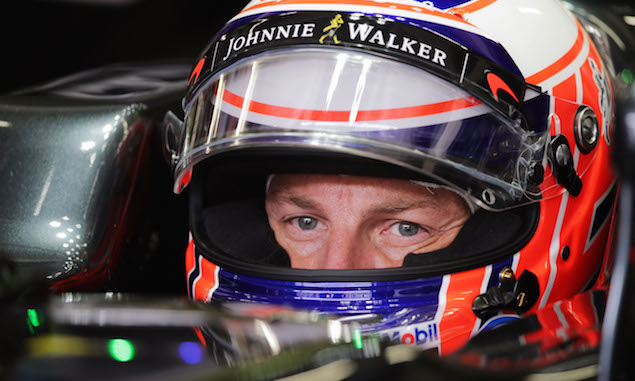 Jenson Button admits he does not want to be racing in Formula One beyond this weekend's Abu Dhabi Grand Prix, despite McLaren-Honda having an option on the Briton for 2018.
Button will step down from his seat following the 2016 season finale and was initially set to take a sabbatical year away from F1. The 2009 world champion will take on an ambassadorial role while also being McLaren-Honda's reserve driver.
The team decided to keep Button under contract through 2018 in case Fernando Alonso leaves at the end of 2017. Speaking during Thursday's FIA press conference at Yas Marina Circuit, the 36-year-old now appears to be heading for retirement.
"I go into this weekend thinking it's going to be my last race, I think that's the best way," Button said. "It is going to be my last race. At this moment in time, I don't want to be racing in F1 beyond this year.
"It is true that I have a contract in 2018 but at this moment in time I am not going to be racing in 2018. "The whole point of this was if in three months' time I had eaten myself stupid and I changed my mind.
"But I don't want to go into this race thinking it's not my last race and it is."
Having made his F1 debut with Williams in 2000, Button is set to make his 305th start on Sunday; he has 15 wins, 50 podiums, eight pole positions, and eight fastest laps to his name.
"It's been a long journey since eight years old until now. You get to Formula One with many dreams and hopefully you leave the sport with memories - some amazing memories, some life-changing, some good, some bad.
"I've raced with two of the teams I dreamt about racing with when I was a kid: Williams and McLaren.
"To walk away with the world championship [with Brawn GP] is very special too.
"Over 300 grands prix and I will definitely step away from F1 happy with what I've achieved and definitely my life starts now."
Grosjean column: Magnussen and THAT crash in Brazil
Chris Medland's 2016 Abu Dhabi Grand Prix preview
FEATURE: Hamilton v Rosberg: 2016 F1 drivers' title permutations
TECHNICAL: Under the skin of the McLaren-Honda MP4-31
Keep up to date with all the F1 news via Facebook and Twitter