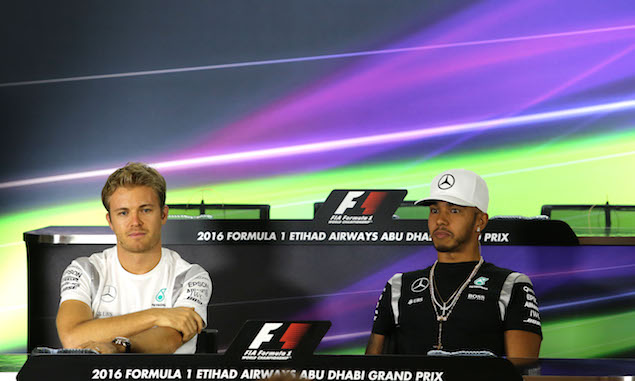 Formula One points leader Nico Rosberg insists he will keep the title fight with Mercedes team-mate Lewis Hamilton "within the limits of what's acceptable" at this weekend's Abu Dhabi Grand Prix.
The German enters the 2016 season finale with a 12-point edge over his British rival, which means finishing on the podium is enough for him to seal his first world championship.
Should both Mercedes drivers collide, like they did in Spain earlier this year, Rosberg would be crowned as well. When asked whether he would be ready to resort to any dodgy driving against Hamilton, the 23-time grand prix winner immediately dismissed the suggestion.
"It's none of what you just said," Rosberg said. "It's going to be a weekend like any other where I'm going to for the race win within the limits of what's acceptable of course."
Having abode by his race-by-race mantra all year long, Rosberg is not ready to change his mindset despite the title being at stake.
"The most important for me is to do an awesome performance here… that's to do the same as I've done for all the other races.
"This is one more race, [it's about] keeping it simple, focussing on going for the race win, and putting everything towards that and not thinking about 'what if?'
"That would not be the right approach for me. That what feels good to me. That's what I'm sticking to."
And when suggested to him that he has played it conservatively over the past three races, Rosberg laughed it off.
"I don't think you would be saying that if you had been in the car with us [at the rain-hit Brazilian Grand Prix], you would not call it conservative.
"I am here to win, not to think who might come in between [Lewis and me] or be right behind me. And I know with the car that I have and the form that I'm in that I can make it happen and I'm just focussing on that. And that's it."
Grosjean column: Magnussen and THAT crash in Brazil
Chris Medland's 2016 Abu Dhabi Grand Prix preview
FEATURE: Hamilton v Rosberg: 2016 F1 drivers' title permutations
TECHNICAL: Under the skin of the McLaren-Honda MP4-31
Keep up to date with all the F1 news via Facebook and Twitter