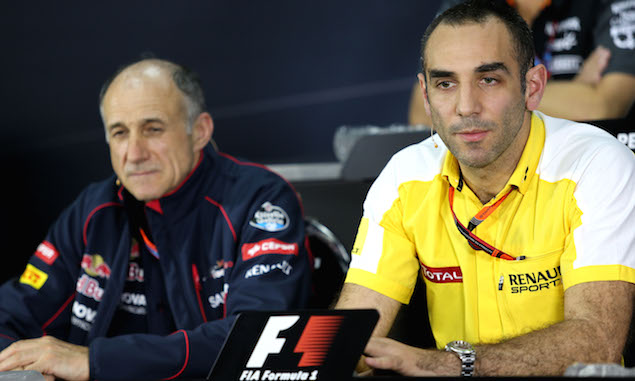 Toro Rosso team principal Franz Tost would like to see Renault take over the sister Red Bull team.
Renault Sport F1 managing director Cyril Abiteboul has previously admitted Renault is looking in to the possibility of increasing its F1 presence by acquiring a team, but warned quitting the sport altogether is also an option. Sat alongside Abiteboul and Red Bull team principal Christian Horner in Malaysia, Tost admitted a move to become a factory team would be a good move for Toro Rosso.
"I think this would be a fantastic opportunity for Toro Rosso to make the next step forward, because the team wants to be established in the future within the first five in the constructors' championship," Tost said.
"To be part of a manufacturer, to work together with a manufacturer, to be owned by a manufacturer would be exactly this step forward which the team needs to be established in the first five."
In response to Tost's quotes, Abiteboul says Renault needs to focus on its power unit for now after a difficult start to 2015.
"I think the first priority is to get the engine right," Abiteboul said. "We've seen in Melbourne that it was not really the start of season that we were expecting, both on track and off track, so before starting really to think about doing a car I think we need to get the engine under control, so that's the priority for the time being.
"Then if we can do that we'll have to review the situation from a marketing and strategic perspective and see if there is anything better to do than we are doing currently, from more of Formula One to less of Formula One, but for the time being we are focused on what we are doing."
Click here for Sunday's gallery from the Malaysian Grand Prix