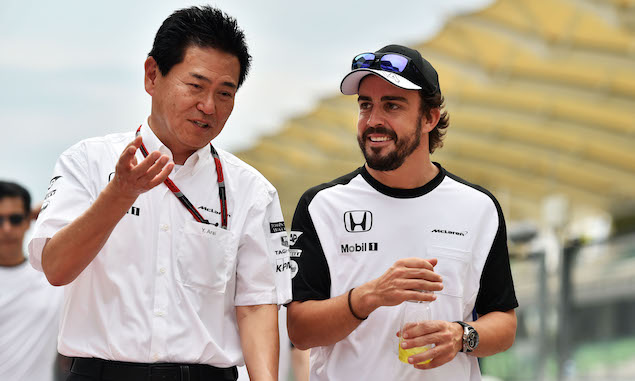 Honda motorsport boss Yasuhisa Arai says the engine manufacturer's confidence has been boosted by the progress it made at the Malaysian Grand Prix.
The first race of the season saw McLaren struggle for both pace and mileage, with only one car starting the race and Jenson Button finishing two laps adrift at the back of the field as Honda ran its power unit conservatively just to try and finish the race.
However, the progress was clear in Malaysian as McLaren was more competitive, with Button and team-mate Fernando Alonso estimating there had been an improvement of around 1.6s over the previous race.
As a result, Arai says Honda's confident has received a major boost and will help it push even harder to make further improvements by China.
"In the past two weeks [since Australia] we have made a big effort and still at Honda we are going up a high mountain and are in the middle section," Arai said. "But we are confident that what we did in the last two weeks is very, very good for our confidence and maybe the next two weeks we are stepping up more and looking more at getting good results step by step."
Click here for Sunday's gallery from the Malaysian Grand Prix