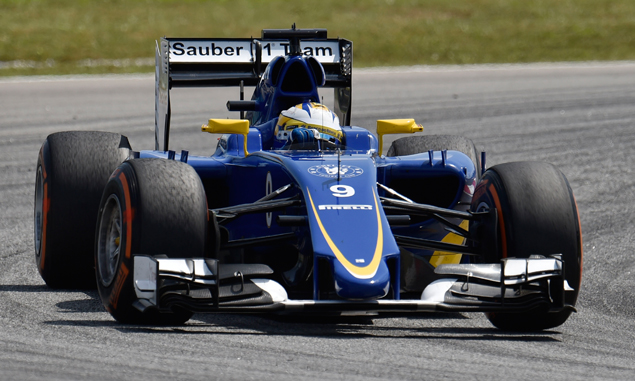 Marcus Ericsson thinks he could have fought with the Toro Rossos and Red Bulls in last weekend's Malaysian Grand Prix but for a spin that put the Sauber driver out of the race on lap three.
Despite scoring his maiden championship points in Australia, the Caterham refugee had experienced a tough season-opener and seen rookie team-mate Felipe Nasr's star debut eclipse his eighth place finish.
Ericsson enjoyed a much smoother weekend in Sepang where he hoisted his Ferrari-powered C34 into the top-10 in every session prior to the race, including a maiden Q3 appearance during qualifying.
The 24-year-old Swede had a decent getaway on Sunday and was in hot pursuit of the fast-starting Nico Hulkenberg when he tried to overtake the Force India on the outside of Turn 1 on lap three.
Braking a couple of meters too late, Ericsson ran wide and ended up spinning into the gravel. The F1 sophomore believes his mistake prevented him from harvesting a second decent points haul in as many events this year.
"I think today seventh or eighth would have been possible with the pace we had all weekend and the way the start of the race was," Ericsson told F1i. "I managed to get past Verstappen, which was the main target.
"In order not to lose race time, I really needed to get past (Nico Hulkenberg) and not let the Red Bulls ahead get away because we knew we could maybe fight with them as well if we had a good race.
"From the GP2 days, I knew Turn 1 is a good place to go around the outside. I have done it before in GP2 and I know it's a good way to overtake. I got the run down on (the Force India) along the start/finish straight and went for it on the outside.
"Basically, I overshot it a bit and there's such a small margin between making (a move) stick and overshooting it. Extremely frustrating because I think I threw away some points."
Although Ericsson rued his error, the Sauber driver remains upbeat by the kind of pace he displayed all weekend.
"It's really frustrating but when I look back at the weekend… it's been a very strong weekend for me, a bit of breakthrough as well, showing top-ten pace in every session up until the race.
"That's just going to make my confidence grow and make me stronger. For sure I'm going to bring a lot of positives from this weekend."
Click here for Sunday's gallery from the Malaysian Grand Prix