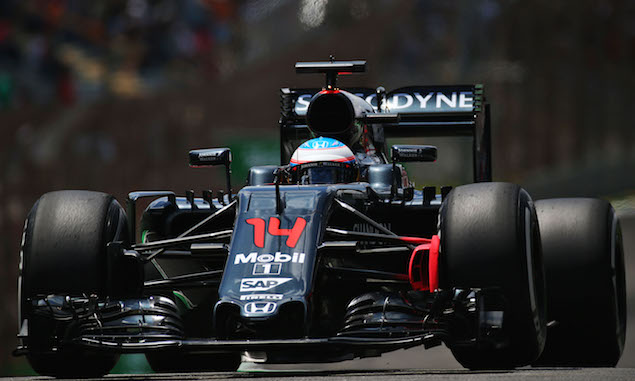 McLaren executive director Zak Brown says the team is "feeling very bullish" about the improvement it expects to make with its 2017 car.
Next season sees new aerodynamic regulations introduced - including wider tyres - which are aimed at reducing lap times by around five seconds, using the Circuit de Catalunya as a benchmark. McLaren was one of the teams keen to see such a change and Brown says the atmosphere within the factory is one of optimism as development of its new car continues.
"Everyone is very excited," Brown told Sky Sports. "I've been walked through the car in detail, and now seen all the reports from this year's car and where they have found areas of improvement, so everyone is feeling very bullish going into next year."
And Brown believes McLaren and Honda's progress between seasons last year gives the team a good example of the sort of improvement it should be trying to make in order to close the gap to the front of the grid.
"[The team] showed great progress this year. The last couple of years have been difficult, but this year they had a good race car. Honda is putting out some good power and if we can make the same leap from 2015 to 2016 to '16 to '17, we are well on our way."
Jorge Lorenzo: When a two-wheel champion tests a Mercedes
Silbermann says ... Ignore Flavio, get Alonso in
INTERVIEW: Stoffel Vandoorne: The long wait is over
TECHNICAL: Under the skin of the Force India VJM09
Keep up to date with all the F1 news via Facebook and Twitter